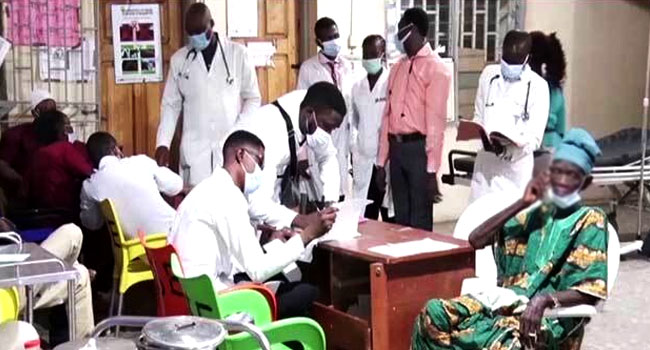 The Medical and Dental Consultants Association of Nigeria (MDCAN) has decried the mass exodus of doctors to more developed countries.
MDCAN President, Dr Victor Makanjuola, lamented that the relocation of medical experts has brought significant disruptions to Nigeria's healthcare ecosystem.
He made the remarks on Sunday while briefing journalists at the end of the union's National Executive Council (NEC) meeting held in Abuja.
Makanjuola stated that over 100 medical and dental consultants have left the services of 17 tertiary health institutions in the last 24 months.
He attributed the continued exit of medical practitioners from the country to poor welfare and working conditions, as well as the insecurity ravaging various parts of the nation.
[READ ALSO] Hanifa Abubakar: Youths Burn School Where Pupil's Body Was Buried
According to the MDCAN president, several of the recent policies of the government appear to target medical professionals and their practice in Nigeria.
"The level of insecurity in the country has remained worrisome, making it nearly impossible to safely use certain road routes across the country," he stated. "This is despite efforts being made by the government to address the challenges.
"The persistent attack on Medical and Dental Postgraduate Medical Fellowship and discrimination against our members have also continued unabated.
"These young people will not leave if the economy is good; the older ones will not leave if there are facilities to train with. They will not leave if their pay is reasonable, and most importantly they will not leave if they are gainfully employed."
Makanjuola also criticised the Federal Government's circular on the hazard allowance for medical personnel, saying the amount offered was highly discouraging.
He stated that the circular was not in line with the earlier agreement reached during negotiation with representatives of various associations under the health sector.
The MDCAN president stressed that the recently reviewed hazard allowances by the government were inadequate to address the multiple risks faced by an average health worker in the country.
On the way forward, he advised the government to improve the conditions of service of those still in the system to prevent a further brain drain.
"Government as a matter of urgency should put policies in place to arrest the mass exodus of highly skilled medical and dental consultants into developed countries.
"Such policies must domesticate the pull factors while minimising the push factors that encourage emigration of healthcare professionals," said Makanjuola.