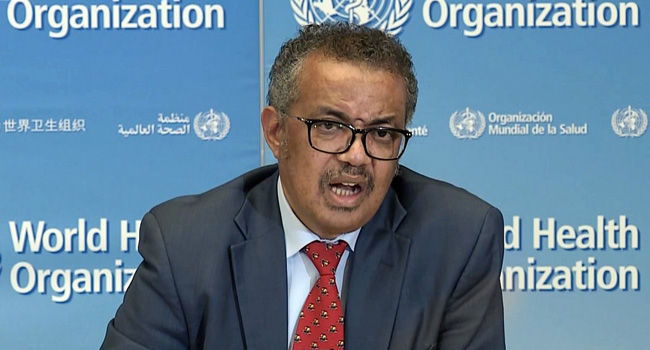 At least one person died of complications related to COVID-19 on the average last week, the World Health Organisation (WHO) has said.
WHO Director-General, Tedros Ghebreyesus, stated this on Monday in his opening remarks at the 150th session of the global agency's Executive Board in Geneva, Switzerland.
He informed the session that it was already two years since WHO declared COVID-19 a global health emergency.
"This Sunday marks two years since I declared a public health emergency of international concern – the highest level of alarm under international law – over the spread of COVID-19," said Ghebreyesus. "At the time, there were fewer than 100 cases and no deaths reported outside China.
"Two years later, almost 350 million cases have been reported, and more than 5.5 million deaths – and we know these numbers are an underestimate. On average last week, 100 cases were reported every three seconds, and somebody lost their life to COVID-19 every 12 seconds.
"Since Omicron was first identified just nine weeks ago, more than 80 million cases have been reported to WHO – more than were reported in the whole of 2020. So far, the explosion in cases has not been matched by a surge in deaths, although deaths are increasing in all regions, especially in Africa, the region with the least access to vaccines."
READ ALSO: NCDC Confirms 228 COVID-19 Cases In 13 States, FCT
According to the WHO chief, the questions many are asking include where the world stands as it relates to COVID-19, where it's headed, and when the pandemic will.
He admitted that people would live with COVID-19 for the foreseeable future and would need to learn to manage it through a sustained and integrated system for acute respiratory diseases, which would provide a platform for preparedness for future pandemics.
'Everyone Is Tired'
Ghebreyesus, however, believes learning to live with the virus cannot mean giving it a free ride or accepting almost 50 thousand deaths a week from a preventable and treatable disease.
He added that such a situation does not amount to succumbing to an unacceptable burden on health systems, especially when exhausted health workers go once again to the front line daily.
The WHO chief explained that there were different scenarios for how the pandemic could play out, and how the acute phase could end, warning that to assume Omicron would be the last variant would be dangerous.
"On the contrary, globally the conditions are ideal for more variants to emerge. To change the course of the pandemic, we must change the conditions that are driving it," he said.
"We recognise that everyone is tired of this pandemic; that people are tired of restrictions on their movement, travel, and other freedoms; that economies and businesses are hurting; and that many governments are walking a tightrope, attempting to balance what is effective with what is acceptable to their people."
On the vaccination drive, Ghebreyesus revealed that 86 member states could not reach last year's target of vaccinating 40 per cent of their populations.
He stated that 34 member states, most of them in Africa and the Eastern Mediterranean region, have not been able to vaccinate even 10 per of their populations while 85 per cent of the population of Africa has yet to receive a single dose of vaccine.
"Just a week ago, COVAX delivered its one billionth dose," the WHO chief hinted. "In the past 10 weeks, COVAX shipped more vaccines than in the previous 10 months combined.
"The challenges of supply we have faced in the past year are now being replaced by the challenge of rolling out vaccines as fast and far as possible. WHO and our partners are working with countries around the clock to overcome these challenges."