Sanwo-Olu Flags Ojota-Opebi Link Bridges, Other Road Projects
Lagos State governor Babajide Sanwo-Olu on Wednesday flagged off the construction of Ojota-Opebi link bridges and approach roads to ease congestion in Ikeja and environs.
According to a statement by the Chief Press Secretary, Gboyega Akosile, the 3.89 kilometre-long road infrastructure will open into Ojota axis in Kosofe, taking traffic from Opebi U-Turn and dropping it at Ikorodu Road via intersection that will be constructed under Odo Iya Alaro Bridge at Mende.
Sanwo-Olu, while flagging off the construction of the bridges and roads tagged 'legacy project,' said the project was an innovative solution to the perennial gridlock around Opebi/Mobolaji Bank Anthony Way/Ojota/Mende corridor.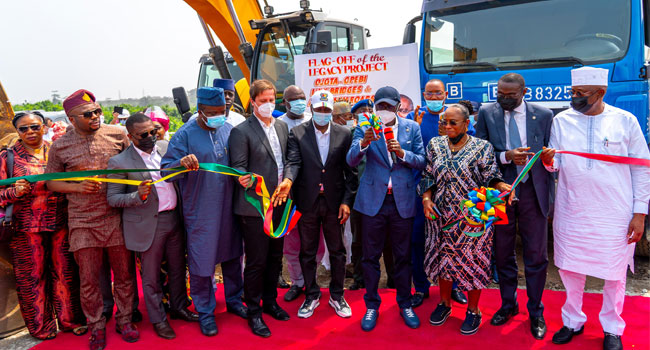 He described the project as "another landmark progress" recorded by his administration towards delivering requisite infrastructure in Lagos. The ceremony, he said, demonstrated the priority accorded the welfare and well-being of the residents in line with his Government's drive towards delivering a Greater Lagos Vision.
"This flag-off ceremony demonstrates the priority we accord the well-being of the people of Lagos, as we are witnessing another milestone in the implementation of the Traffic Management and Transportation Pillar of our administration's THEMES Agenda and the State Strategic Transport Master Plan (STMP)..
"We recognised the need to create a permanent solution to the conflicts by initiating another legacy construction project linking Ojota, Opebi and approach roads to connect Opebi Road from its tail end with Ikorodu Road by Odo Iya Alaro. Upon completion, the carriageway will reduce travel time for Lagos and Ikorodu-bound traffic from Opebi. It will also ease the traffic situation at Opebi-Sheraton Link Road and Mobolaji Bank Anthony Way. This legacy project will not only provide a new link to commute around Ikeja and its environs, it will also enhance economic prosperity and life expectancy," Sanwo-Olu said.
The Governor stressed that Messr Julius Berger was favoured as the preferred contractor for the iconic project, given the civil engineering firm's capacity and track record in construction on swampy terrains.
Sanwo-Olu also announced that the State Government had successfully procured additional three sets of train for the Lagos Blue Line Rail project expected to be completed before the end of the year. The rail line traverses Okokomaiko and Marina.
The governor had earlier completed the deal for the procurement of two Talgo trains in Milwaukee, Wisconsin in the United States (U.S.) for the Lagos Red Rail Line project, stretching 37-kilometre from Abule Egba into Oyingbo.