2023 Presidency: Wike Woos Abia PDP Delegates, Pledges To Protect Interest Of Igbos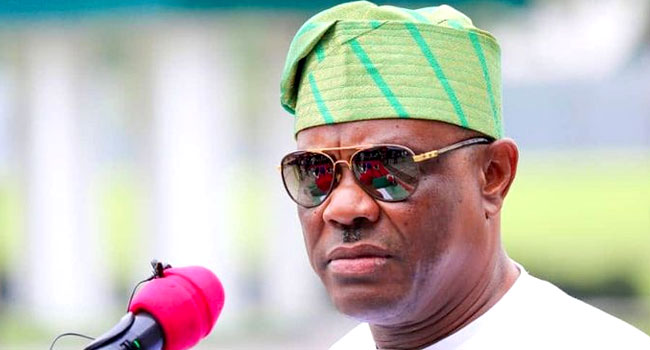 Rivers State Governor and presidential aspirant of the Peoples Democratic Party (PDP), Nyesom Wike, has pledged to protect the interests of Igbos if elected as Nigeria's President in 2023.
He made the pledge on Saturday during a visit to the PDP delegates in Abia State where he also met with the state governor, Okezie Ikpeazu in Umuahia.
According to Wike, he is the only PDP presidential aspirant to publicly declare Igbos' interest with courage.
The Rivers governor also stated that he is ending his presidential campaign ahead of the opposition's primary slated for May 28.
"I am coming to run for President, not just on account of my own, a lot of my friends put heads together to say 'look it is important that you lead this battle to rescue Nigeria'" he said.
"I say so with all amount of seriousness and I challenge anybody who is from the southern part of Nigeria, the South-South or South-East. check all of us, who can even defend the interests of Ndi Igbos?"
READ ALSO: 2023: Osinbajo Meets APC Delegates In Zamfara, Katsina
In his remark, Governor Ikpeazu told the delegates that Wike has paid his dues and will not abandon the PDP even if the primaries do not work in his favour.
He said, "Governor Wike has paid his dues, he has fought for this party, he has stood for this party. He has never changed parties and he will not change parties despite the outcome of the convention whenever it comes.
"He has a clear head and vision of what he wants to do for our country. If we want somebody who can take very tough decisions, Governor Wike can take tough decisions."
The meeting continued at the banquet hall of the Abia State Government House where Wike challenged the PDP delegates to vote for someone who will defend their interests.
Some of those in attendance also speak of their admiration of the PDP presidential aspirant and what he stands for.
Among them is a former member of the House of Representatives, Nnenna Ukeje, who commended the governor for being a true party man.
"We have listened to all the other candidates and we see that even as they mouth the things that they say, we can pick holes in the things that they say.
"But what I can say is that he has stood by this party through the thick and thin, it is a fact that is incontrovertible," she said.
For the former Abia State Governor, Senator Theodore Orji, Governor Wike's development strides in Rivers State shows what he can do if elected as President.
"Your character has been constant, I can testify to your performance. In fact, you don't need to advertise yourself, what you do will always advertise you," he said.