The Chief of Army Staff Lieutenant General Faruk Yahaya at a Regimental Dinner Night has urged retired officers in 81 Division Nigerian Army (NA) never to rest on their oars even in retirement until the security challenge in the country is brought to an end in favour of the Armed Force and by extension the Nation.
The Army Chief who was represented by the General Officer Commanding 81 Division NA Major General Umar Thama Musa at the Regimental Dinner Night in honour of officers who retired in 81 Division noted that the Army is still open to their invaluable contributions towards attaining her constitutional mandate and would always welcome their supports. General Faruk further said they are welcome to attend functions and sessions in order to continue to extend their fellowship to the colleagues they were leaving behind in service.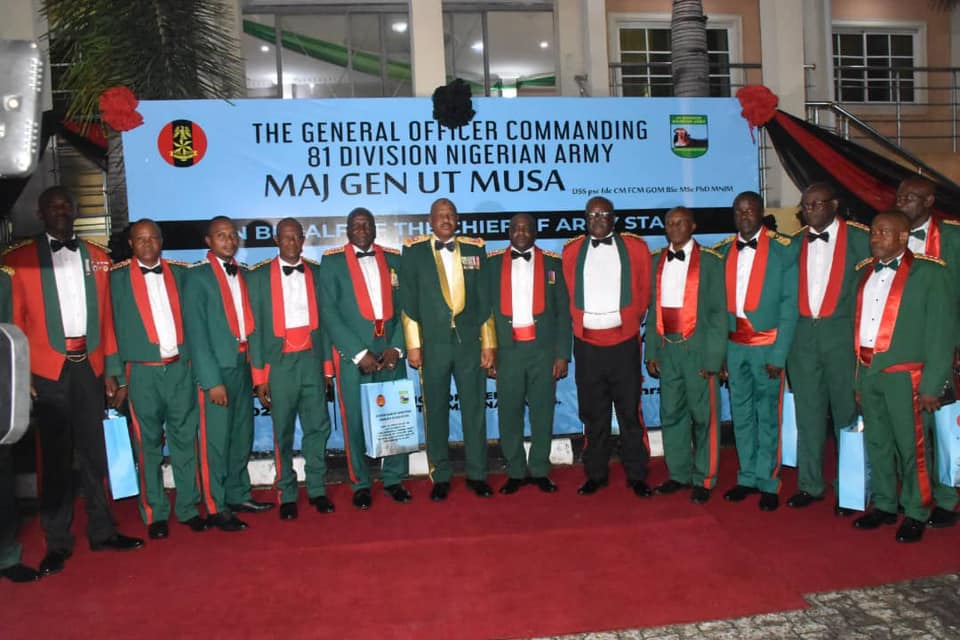 According to General Yahaya, retirement is an inevitable phase in the life of every military personnel as it marks the complement of active service to the nation. He therefore commended the retired officers for the remarkable achievements they made while in active service to the Nation through the NA.
The Army Chief assured the them that the NA will remain grateful for the services they rendered in the defence of their fatherland. He said the celebration should also be taken as an avenue to thank God for the grace to render the distinguished and meritorious service to the Nation in the quest to restore peace and harmony to our beloved country.
READ ALSO: Troops Destroy 'IPOB Training Camp' In Imo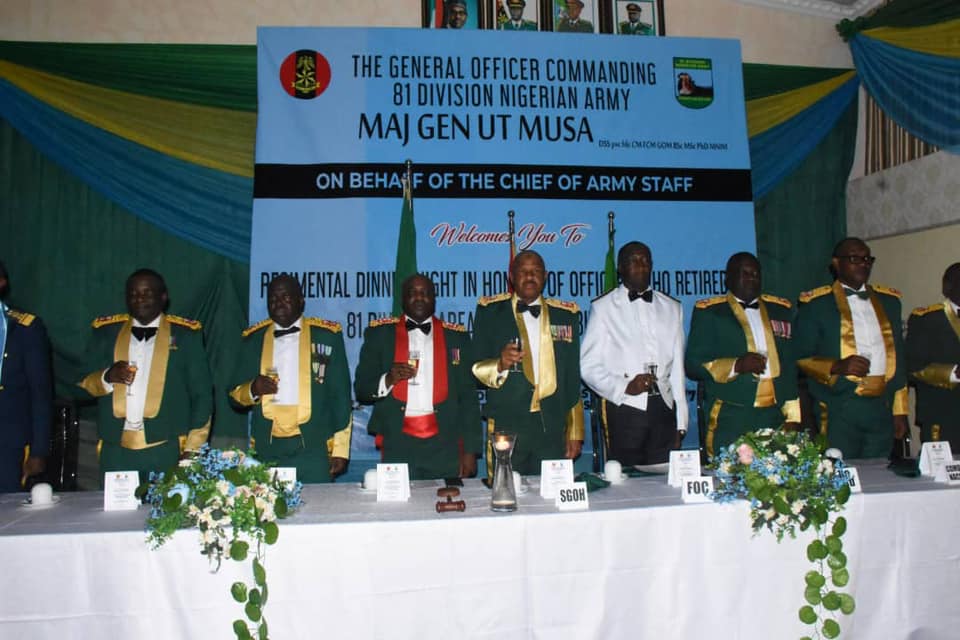 Earlier the President Mess Committee Brigadier General Danlami Ndahi while welcoming the Retired Officers and invite guests to 81 Division Officers', congratulated the retired officers and their families on behalf of the entire Division on their successful and meritorious retirement from the NA. He said retirement marks the successful complement of active service to the nation.
Colonel Mustapha Anka (rtd) while delivering the vote of thanks on behalf of the retired officers said the COAS has laid a landmark which they much appreciate. He thanked the Army for given them a sense of belonging and for appreciating their sacrifices and service to the Nation through the NA.
The retired officers honoured included Colonel Moses Abolanle, Colonel Igwe Ibemere, Colonel Mustapha Abubakar Anka, Colonel Francis Ekoyo, Colonel Folarin Orolugbagbe and Lieutenant Colonel Ceril Chukwuma Okafor. Others are Lieutenant Colonel Moses Babuba, Lieutenant Colonel Abong Leku, Major Gabriel Ogwo, Major Rilwanu Ishida, Major Bisi Olajide, Major Paul Akpan and Lieutenant Emmanuel Adejoh. The highpoint of the occasion was the presentation of plagues and souvenirs to the retired officers.