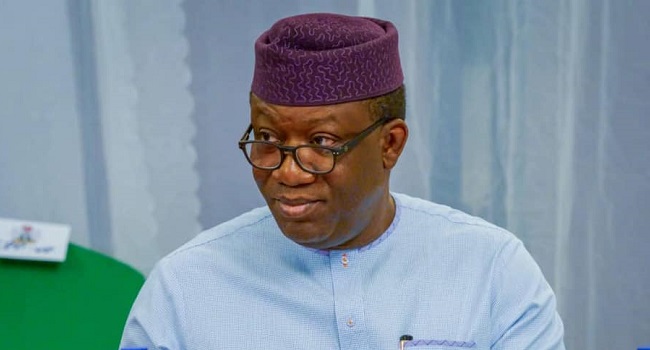 A presidential aspirant and Ekiti State Governor, Dr Kayode Fayemi has denied stepping down in favour of another contestant, saying he is favourably positioned to clinch the All Progressives Congress (APC) ticket.
In a statement issued on Friday, the spokesman of the Fayemi campaign organisation, Femi Ige, debunked reports that the governor had withdrawn from the presidential race.
While describing the report as "absolute rubbish", the governor said there was no way he would drop his ambition as he has the backing of those he described as APC's real stakeholders.
READ ALSO: APC Primary: Osinbajo, Lawan In Last-Minute Push As Tinubu, Others, Talk Tough
"[It is] absolute rubbish. No meeting took place between us and any aspirant about stepping down. We are undoubtedly among the leading aspirants for the position and one to watch in the race," the statement reads.
"Our candidate has deep trust and respect among political leaders in the party and also from fellow governors who form a critical mass in the decision-making process."
The spokesman said no amount of late-night demarketing will work against the Fayemi presidential project.
Meanwhile, one of the aspirants and incumbent Vice President, Yemi Osinbajo, was said to have met with the APC National Chairman, Abdullahi Adamu, and five governors of the ruling party.
Although his spokesperson, Laolu Akande, has yet to confirm this, the meeting was reportedly held on Thursday evening at the official residence of the Vice President in Abuja.
Another presidential hopeful and Senate President, Ahmad Lawan, wants the party's delegates to consider the future of Nigeria and a candidate who will deliver in the nation's best interest while voting in the primary next week.
He urged the delegates to set aside monetary incentives and seriously consider what was for the greater good of the country.
Lawan, while wooing the delegates, asked them to consider him critically, saying he would offer himself, his heart, integrity, and dedication to ensure that the dream of justice for all and a dream of uniting to fight the nation's foes, were achieved.
He urged them to scrutinise the past practices of all aspirants to elicit what behaviours, avarice, and rapacity his co-contenders have exhibited in the past.