Governors of the All Progressives Congress (APC) have recommended five presidential hopefuls for the party to pick its consensus candidate.
Plateau State Governor Simon Lalong, who is also the Chairman of the Northern Governors' Forum, disclosed this on Tuesday during an interview on Channels Television's Sunrise Daily.
He listed the aspirants as Bola Tinubu; Vice President Yemi Osinbajo; ex-Transportation Minister, Rotimi Amaechi; governors Kayode Fayemi (Ekiti) and Dave Umahi (Ebonyi).
According to him, the list of "frontline" aspirants has been presented to President Muhammadu Buhari, who he said accepted the recommendation.
Lalong, however, explained that the recommended aspirants were advised to hold consultations among themselves to enable them further to reduce the number of contestants.
"The President told us any of these five are qualified to be president and have contributed to the party (APC). He said he is comfortable with any of them," he said during the breakfast show.
"Our recommendation is to enable us to give direction for the party as we go into the primary. We cannot go with everybody, but in our view, these are the people we think should remain."
When asked how the list of frontline aspirants was arrived at, Governor Lalong said: "The screening committee submitted a report. All the contestants were graded even though none of them was disqualified."
The Plateau governor stated that the contestants not shortlisted were free to disagree with the recommendation and proceed to contest at the primary.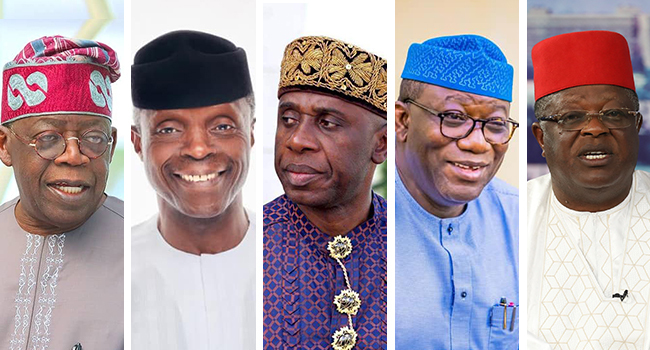 Lalong's comments come a day after the APC's NWC as well as the 19 northern governors insisted on the emergence of a southerner as Nigeria's next President.
APC National Organising Secretary, Suleiman Argungu, had made this known on Monday while addressing reporters at the party's national secretariat in Abuja, the nation's capital.
While briefing reporters in the company of some members of the NWC, he explained that the committee took the decision following a meeting of its members.
According to Argungu, the NWC stands with the position of the northern governors elected on the APC platform for power to shift to the southern part of the country when President Muhammadu Buhari completes his eight-year two terms billed to lapse in May 2023.
He made the remarks amid reports by several media outfits that a presidential hopeful and Senate President, Ahmad Lawan, had emerged as the party's consensus candidate for the forthcoming poll.