The presidential candidate of the All Progressives Congress (APC), Bola Tinubu, has called on Nigerians to shun religious and ethnic division ahead of general elections in 2023.
Amid the outrage triggered by the emergence of former Borno State governor, Kashim Shettima – a Muslim – as the party's vice-presidential candidate, Tinubu said it was time for the people to look beyond religion and ethnicity and focus on building a prosperous nation.
"We hold the chance to move the nation and our collective cause forward as never before," he said on Wednesday at the unveiling of Shettima as his running mate. "To do this, we must be wise in our thoughts and courageous in our actions.
"We must win this election so that we can bring jobs, eliminate poverty, educate our children, (and) bring up our grandchildren without thinking of religious division or ethnic differences. We are one. Our passport is one; greenback is one. One nation, one destiny."
The APC flagbearer, who is also a former governor of Lagos State, explained that his decision to pick the former governor has nothing to do with personal feelings.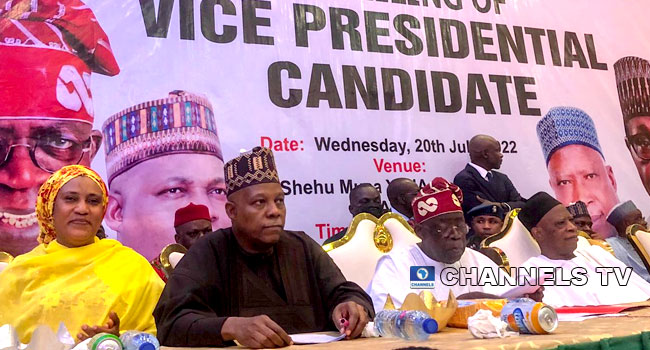 The choice of Shettima who currently represents Borno Central senatorial district, he stated, was borne out of the several consultations he engaged in with various stakeholders in the ruling party.
According to him, the lawmaker shares the same dream of changing Nigeria for the better with him, and choosing him is not to disrespect any religion or ignore the concerns raised by various individuals and groups in the country.
"As a committed and progressive leader, I have read and listened to all that has been written and said. It has been an emotional situation for me. Out of many competent Nigerians and out of many advice, I know it has to be my decision," said Tinubu.
"And the hallmark of leadership is taking a decision at the right time when it ought to be taken. I did; consulted and I am proud to see all of you here acknowledging the quality of our Vice (Presidential Candidate) Kashim Shettima.
"Yet, I remain steadfast in my belief and selection of this man. I believe and I am committed with him to the project Nigeria. With all the strength and stress that might come with it, we will change this country for the better."