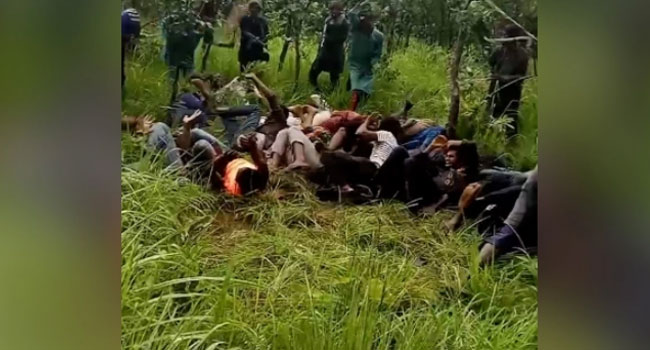 Relatives of victims of the March 28 terrorists attack on a Kaduna- bound train have accused the Federal Government and the military of sabotaging efforts to rescue their loved ones from the hands of their abductors.
The allegation by the aggrieved families comes on the heels of a new video released by the terrorists where the gunmen they threatened to kill or sell off the remaining hostages if the government fails to yield to their demands.
Reacting to the development, the aggrieved families told Channels Television that the efforts they have made to get their loved ones out from the custody of the terrorists were sabotaged by military operatives last Friday.
The military operatives are said to have blocked them from gaining access to the forest where the terrorists had asked them to come and pick up the hostages.
---
READ ALSO: Kaduna Train Attack: Terrorists Threaten to Kill, Sell Hostages, Warn Buhari And El-Rufai
---
This the victim's family suspect is the reason why the terrorists have issued a fresh threat to either sell or kill the victims.
Enveloped with fear and anxiety, the relatives of the hostages say the Federal Government and the security agencies have failed them.
At the family house of one of the victims, Hassan Othman, the victim's elder brother, Sani Othman, could not hide his feelings, he accused the government and security agencies of scuttling their efforts to get their loved ones out of captivity.
Devastated, the Othman's family queried why the military failed to grant then access to get back their loved ones and why the government has not rescued them after so long in the terrorists' den.
Although government at various times, have assured that it will ensure the safe return of the kidnapped victims, the relatives of the hostages say they have run out of patience and have lost faith in the commitment and capacity of the government to bring back their loved ones safe and sound.
It's exactly 121 days after terrorists attacked the Abuja-Kaduna bound train in Chikun local government area of Kaduna State.
No fewer than eight people were killed, including a young female medical Doctor, Chinelo Megafu, the Secretary General of the Trade Union Congress, Barrister Musa Lawal-Ozigi and a youth leader of the ruling APC, Amin Mahmoud.
Twenty six passengers sustained various degree of injuries during the attack while 62 others were abducted. So far , 20 of the victims have been released while the fate of 43 others still hangs in the balance.