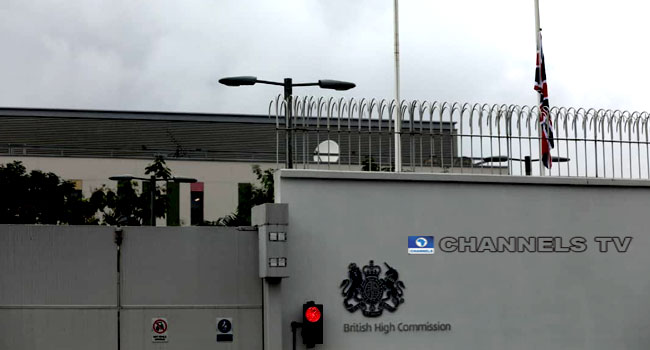 The British national flag was flown at half-mast on Friday at the British High Commission in Abuja, the Federal Capital Territory.
This comes as a sign of respect for Queen Elizabeth II, a day after the world's longest-serving monarch died at her Scottish home at age 96.
She had ruled the United Kingdom since 1952 and was also head of state in 14 Commonwealth countries around the world.
READ ALSO: Queen Elizabeth II Dies At 96
"Following the death of Her Majesty The Queen, all official flags, including the Union Flag, should be half-masted from as soon as possible today until 08.00 the day following The Queen's State Funeral," the UK government said in a statement on Thursday.
"Flags may be flown overnight during this period but should remain at half-mast. Official flags in this instance are defined as national flags of the home nations, Crown Dependencies and Overseas Territories, Ensigns, and Ships' colours.
"Any non-official flags flying or due to be flown, such as the Rainbow Flag or the Armed Forces Day Flag, should be taken down and replaced with a Union Flag at half-mast. Other official flags scheduled to be flown can be flown as normal but at half-mast."
Elsewhere, tributes have continued to pour in from various countries, including where Queen Elizabeth had ruled over and those she had been at war with – from tiny territories to the mightiest governments in the world, and from centuries-old institutions to nations that had not yet been born when she took the throne.
Among those who eulogised the British monarch was President Muhammadu Buhari, as well as India's Prime Minister Narendra Modi, South African President Cyril Ramaphosa, Kenya's president-elect William Ruto, Australian Prime Minister Anthony Albanese, and Canadian Prime Minister Justin Trudeau.
Others are US President Joe Biden, Russian President Vladimir Putin, Chinese President Xi Jinping, German Chancellor Olaf Scholz, Japanese Prime Minister Fumio Kishida, King of the Belgians – Philippe, King Carl XVI Gustaf of Sweden, Spanish King Felipe VI, and Saudi King Salman, among others.
Channels Television's Sodiq Adelakun captured the process of flying the flag at half-mast by guards at the British High Commission in the nation's capital.