'No New Registrant Added:' INEC Dismisses Claims Of Foreigners In Voter Register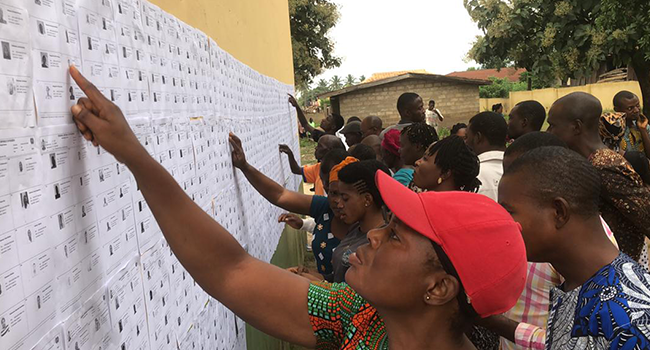 The National Commissioner and Chairman, Information and Voter Education Committee of the Independent National Electoral Commission (INEC) Mr. Festus Okoye has dismissed claims that foreigners are on the country's voter register. 
The Coalition of United Political Parties (CUPP) had claimed that there was a plot to compromise the forthcoming 2023 elections.
"Significant among the discoveries in the register is the fact that the majority of the foreign names were all born in 1983 despite whether their photographs showed they were old or young," the spokesman of the coalition Mr. Ikenga Ugochinyere said on Wednesday.
But Okoye refuted the claims even though he said INEC recognizes the right of citizens to hold the commission accountable.
READ ALSO: 2023 Presidential Election A Three-Horse Race With Obi Leading — Anap Poll
"Nigerians would recall that on 31st July 2022, the Commission suspended the Continuous Voter Registration (CVR) to commence supplemental activities that will culminate in the integration of new registrants into the final Register of Voters for the 2023 General Election," Okoye said in a statement he issued on Thursday.
"It is important to reiterate that no new registrant has yet been added to the Register of Voters for the 2023 General Election or will be included until these supplemental activities have been completed in line with the law."
He also assured Nigerians about the credibility of the election process and that all ineligible records will be detected for removal.
"We appeal to the public to await the Commission's display of the register for claims and objections to raise any concerns that they may have about the registration. We reiterate that our ABIS is robust and will detect practically all the ineligible records for removal.
"Nigerians should be reassured of the Commission's commitment to the credibility of the electoral process in Nigeria. We appeal for your support while we painstakingly deal with the cleanup of the register and other processes that will guarantee that the general election in 2023 is free, fair, credible, and inclusive," he assured.