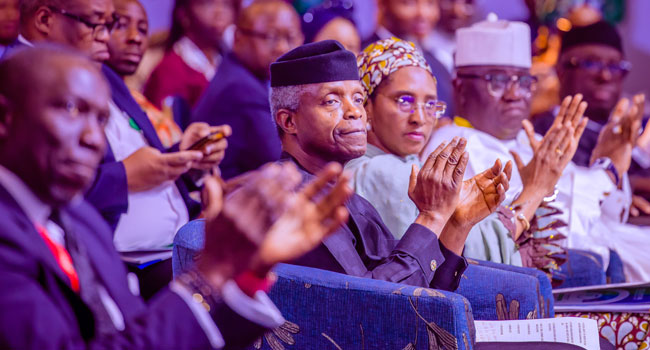 Vice President Yemi Osinbajo on Monday attended the 28th Nigerian Economic Summit in Abuja, the nation's political capital.
The event has in attendance government officials including Kaduna State Governor, Nasir El-Rufai; the Minister of Finance, Budget and National Planning, Zainab Ahmed; other ministers as well as members of the private sector.
The theme of the event is: '2023 and Beyond: Priorities for Shared Prosperity'.
In her remarks, the finance minister said the administration of President Muhammadu Buhari has recorded achievements in the areas of transformational investments in infrastructure to restore national road networks projects, which she said will be complemented by investments in light rail, narrow and standard gauge rail.
She noted that airport terminals have been completed in Lagos and Abuja, adding that the Abuja airport runway is being reconstructed.
Furthermore, the minister said work is also ongoing on the development of seaports and auxiliary infrastructure to the ports or airports, to ensure efficiency in the transportation sector.
She said efforts are also being made to translate from reliance on oil derivatives to gas as a transition fuel, as government also increases the renewable sources such as solar and hydro in the energy mix.
On reforms in the agricultural sector, she said the net earnings of rural farmers has been increased to the sum of 104 billion naira in the areas of cassava, rice, sorghum maize as well as cotton production.