Fadama Club Makes Donation As Katsina Teaching Hospital Introduces Wallet System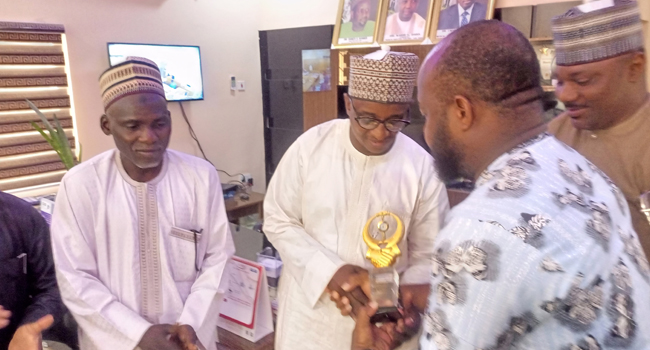 Drugs and medical consumables worth thousands of naira have been donated to the Katsina State Federal Teaching Hospital by the Fadama All Stars Social Club.
The club also presented an award of excellence and merit to the Chief Medical Director of the Hospital, Dr. Suleiman Bello Mohammed, for the numerous achievements he recorded in various aspects of the hospital during the period under his tenure.
Speaking during the occasion, the Club's End of Year Committee Chairman, Dr. Bishir Ajayi seized the moment to urge the Chief Medical Director of the hospital to sustain the tempo and do more.
According to Dr. Ajayi, the pass rate of resident doctors in the hospital has increased geometrically, adding that, the resident doctors in the hospital have the opportunity to stay and study in the hospital amidst 24 hours electricity supply unlike before where, electricity supply hours were 6-7 hours.
"This award we are giving you is not by chance but it's well deserved. I am part and parcel of this transformation, it's a palpable one right from the structures to human development and several others. So, it's not easy at all," he said.
"In particular, we are not surprised that the pass rate of resident doctors in the hospital has increased geometrically. This is because the resident doctors now stay in the hospital to study amidst 24 hours electricity supply unlike some years back when electricity supply hours were 6-7 hours.
"Again, if you have not come to this hospital around in the last two to two years, you will get lost. Sometimes, you find it very difficult to locate some places because of the developments in terms of structures and machines," he noted.
The award was presented on behalf of the Club by the Acting Chairman of the Club, Chidiebere Canice Osuorji.
Also speaking during the ceremony, a member and two time-secretary who doubles as the immediate past chairman of the Club, Mr. David Okpe Israel, maintained that the Club, which had been in existence for over ten (10) years, has been extending gestures of different kinds to places such as orphanage homes, prisons, Vasco Vaginal Fistula Center in Babbar Ruga, Katsina.
"Every year, out of what God has blessed us with, in order to thank Him more and more, we decide as a club to put resources together in order to reach out to the less privileged in society. As part of our activities this year, we decided to come down here to Federal Teaching Hospital, Katsina to present to them with consumables and drugs to be used here," he added.
"Our members are all working class; and are drawn from both public and private sectors such as banks, schools, and business communities.
"Due to the recent activities over the years which are philanthropic, we are now registered with the Corporate Affairs Commission as an NGO."
In his message of appreciation, the Chief Medical Director of the Hospital thanked the Club for the honor, concern, and gesture which he said it's not just for him alone but for other members of his team whom he described as the strength of the hospital.
He recalled that one of his teachers told him to always do the work that he is given for him to succeed in life.
"Whatever the work you are given, just do it with all your strength and don't rest until it's done and that's the recipe for success. So, all I am doing is I am doing the work I am given.
"This hospital was established for three main reasons. The number one reason is the key reason it was established which is service delivery, and the remaining two reasons are there to support the number one reason.
"Training: when we train resident doctors they become specialists, and we get better service delivery.
"Research: when we carry outreach, we will find better ways of doing the things that we do and it will translate into better service delivery.
"So, all we are doing is going back to service delivery. How do we serve the multitude of patients that come to this hospital?
"Like what the Chairperson of the Hospital Management Board, Hajiya Hannatu Akilu, told me when I was the medical director of this hospital then that, 'MD, whatever is right for the patient is right, and whenever the patient is not happy then whatever it's that you are doing is not right, always do what will make the patient happy and what translates to happiness', she told me. And that is what we have been doing although.
"We are trying to make life easier and better for the patients. Now, one thing that our own system has not done for us in Nigeria is that we are about to be the only country in the world because even other African countries have moved ahead of us.
"Rwanda, Kenya, Ethiopia, they have all moved ahead of us in terms of this.
"We are about the only country that when you have an emergency, you go to the hospital, you have to bring out the money. But in all other countries in the world, if it's an emergency, you are taken care of by the system.
"We are now operating the wallet system in this hospital to take care of patients in emergency.
"We are utilizing the resources we get to provide service to our patients in emergency.
"In an emergency situation, you don't need to open a folder, you will be seen, assessed, tested, operated, and served drugs or any other things collected from the pharmacy.
"After all is done and the patient is saved then, we now start discussing how to settle down the bills," he added.
Dr. Bello further announced that the Hospital is committed to complementing the efforts of medical doctors by training not only resident doctors but also nurses and providing them with lab scientists and videographers.
"In most illnesses, people wouldn't know that the determinant of survival is good nursing care. You need a good doctor, but whatever the good doctor will do without good nursing care, you will lose whatever benefits," he believed.