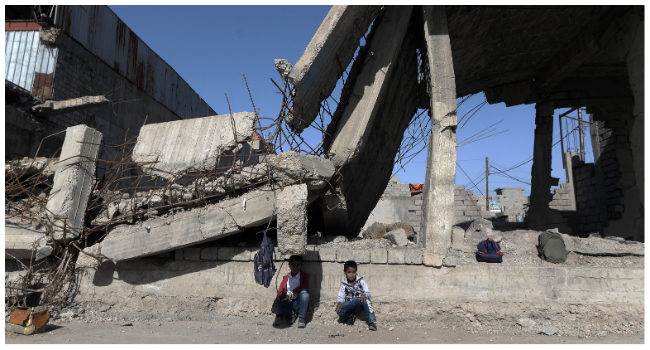 Five years ago, on December 9, 2017, Iraq claimed victory over the once powerful Islamic State group, which had proclaimed a "caliphate" and seized a large chunk of the country.
A little more than a year later, the jihadist group would also be defeated in Syria, where three of its leaders were killed, and reduced to a network of sleeper cells.
Here is a timeline of the rise and fall of IS.
2014: 'Caliphate' declared
The group, then known as the Islamic State of Iraq and the Levant, makes sweeping territorial gains and declares in June 2014 an Islamic "caliphate" under the leadership of Abu Bakr al-Baghdadi.
Raqa, in northern Syria, and Mosul, Iraq's second-biggest city, become its two de-facto capitals.
Yazidi massacre
Rebranded the Islamic State, the group carries out beheadings, mass executions, rapes, abductions and ethnic cleansing in Raqa.
Some atrocities are broadcast for use as propaganda.
In Iraq, IS seizes in August 2014 the historic home of the Yazidi minority in Sinjar region, forcing children to become soldiers and using thousands of women as sex slaves.
United Nations special investigators in 2021 report they have collected "clear and convincing evidence" of genocide by IS against the Yazidis.
US-led coalition
Washington in August 2014 forms a coalition of more than 70 countries to fight IS in Iraq and Syria, mainly through air strikes.
The United States deploys around 5,000 soldiers to the region.
2017: Defeats in Iraq
Iraq announces in March 2015 the "liberation" of Tikrit, north of the capital Baghdad. Kurdish forces in November retake the city of Sinjar.
The Anbar provincial capital Ramadi and nearby Fallujah are retaken the following year.
And in July 2017, then-Iraqi prime minister Haider al-Abadi declares the jihadists' defeat in Mosul.
On December 9, Abadi announces a final victory against IS.
2019: Ousted from Syria
Kurdish forces drive IS out of the Syrian city of Kobane, on the Turkish border, in January 2015.
In August 2016, the US-backed Kurdish-Arab alliance known as the Syrian Democratic Forces (SDF) recaptures Manbij in Aleppo province.
Turkish-backed Syrian rebels retake Jarabulus, and then, in February 2017, Al-Bab, the last IS bastion in Aleppo province.
In March, Syrian troops backed by Russian jets take back the ancient town of Palmyra, and in October the SDF announces the full recapture of Raqa.
The SDF proclaims the defeat of the "caliphate" in March 2019 after seizing Baghouz, IS's final bastion in Syria.
Leader killed
Washington announces on October 27, 2019 that IS leader Baghdadi detonated a suicide vest during an overnight raid by US special forces deep in northwest Syria, killing himself and three of his children.
2021: Baghdad bombing
In January 2021, IS claims responsibility for a twin suicide attack at a Baghdad market that killed 32 people, the first such assault in the city for more than three years.
A UN report in February says the jihadist group has "10,000 active fighters" in Syria and Iraq.
US 'combat mission' ends
Washington announces in December 2021 that the international coalition has "finished its combat mission" in Iraq.
Some 2,500 US soldiers and 1,000 coalition troops remain deployed there as trainers.
2022: Prison offensive
Jihadists storm in January 2022 Syria's Ghwayran prison in the northeastern city of Hasakeh, in an assault described as one of IS's most significant since its defeat.
Over several days of fighting, hundreds of people die before Kurdish forces regain control.
Baghdadi's successors killed
IS's second leader, Abu Ibrahim al-Qurashi, blows himself up in February 2022 during a US raid in northwestern Syria.
He is replaced by Abu Hasan al-Hashimi al-Qurashi, who IS says on November 30 has been killed in battle.
The group names Abu al-Hussein al-Husseini al-Qurashi as its third leader in less than a year.