Reality television star and social media colossus Kim Kardashian has purchased the Attallah Cross, the amethyst and diamond pendant famously worn on several occasions by Princess Diana, according to the auction house Sotheby's.
The piece, made in the 1920s by the British jeweller Garrard, sold for 163,800 pounds ($202,300) during the auction house's "Royal and Noble" sale in London on Wednesday.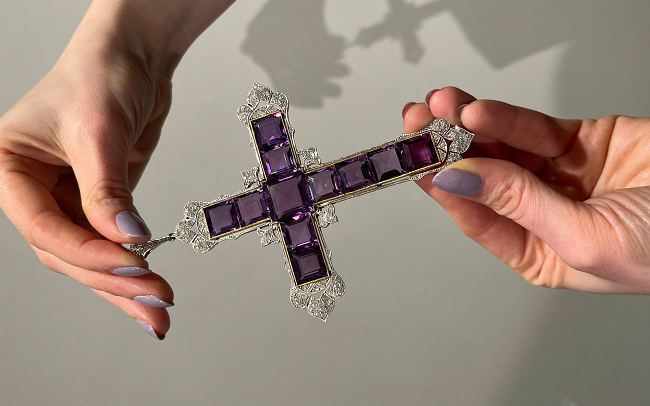 The pendant — which Diana notably wore to a 1987 charity gala — fetched more than twice the pre-auction minimum estimate, with Sotheby's confirming it was bought by a representative on behalf of Kardashian.
"Jewellery owned or worn by the late Princess Diana very rarely comes on to the market, especially a piece such as the Attallah Cross, which is so colourful, bold and distinctive," Sotheby's Kristian Spofforth said before the sale.
"To some extent, this unusual pendant is symbolic of the princess's growing self-assurance in her sartorial and jewellery choices, at that particular moment in her life."
The pendant will not be the first piece of fashion history to cross paths with Kardashian.
Last year, the 42-year-old made headlines for attending the Met Gala in the very dress worn by Marilyn Monroe when she serenaded then-president John F Kennedy on his birthday in 1962.
Kardashian was initially accused of having damaged the screen legend's gown, but Los Angeles-based museum Ripley's Believe It or Not!, which owns the piece, denied the allegations.