Tokyo stocks rebounded from earlier losses to end higher on Friday as the tourism sector enjoyed a boost from China's Lunar New Year celebrations.
The benchmark Nikkei 225 index was up 0.56 percent, or 148.30 points, to end at 26,553.53, while the broader Topix index gained 0.59 percent, or 11.25 points, to 1,926.87.
The dollar bought 129.10 yen, compared with 128.40 yen in New York and 127.93 yen in Tokyo on Thursday.
At the open, the Tokyo market was weighed down by US falls linked to tepid retail sales data that underlined the risks of a downturn in the world's biggest economy.
But share prices later started picking up, led by rallies in shares related to inbound tourism as traders took heart from China's reopening after three years of painful Covid-19 lockdowns.
For example, Japan Airlines surged 4.24 percent to 2,723 yen, while luxury department store operator Takashimaya firmed 2.29 percent to 1,784.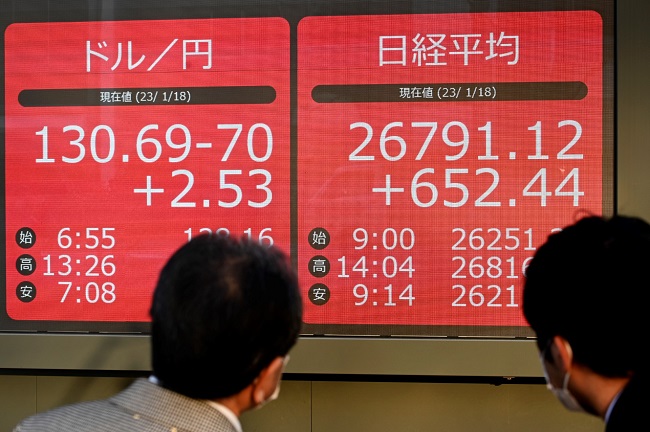 These businesses were bolstered by factors such as "China beginning its long holidays" and speculation that the country "has passed the peak of Covid-19 cases", IwaiCosmo Securities said.
The sanguine mood extended beyond Japan. "Stocks in Asia are nudging up despite weakness in the US market," said SPI Asset Management's Stephen Innes.
"China's reopening is adding further fuel to the tourism recovery," he said.
Among other major shares in Tokyo, SoftBank Group edged up 0.11 percent to 5,882 yen, Sony Group was up 0.43 percent to 11,430 yen and Toyota added 0.99 percent to 1,883 yen.
Uniqlo operator Fast Retailing rose 0.93 percent to 75,440 yen.