President Muhammadu Buhari on Monday inaugurated the Lekki Deep Sea Port, Imota Rice Mill, and Bestaf Lubricant at MRS Holdings Company Limited all located in Lagos State.
The projects are part of a series of facilities being commissioned by Buhari during a two-day visit to the state.
The Lekki Deep Sea Port which encompasses an investment in excess of $1.5 billion is a joint venture between the Federal Government through the Nigerian Ports Authority (NPA), Lagos State Government, the Tolarams Group (the owner of the Lagos Free Zone), and China Harbour Engineering Company.
READ ALSO: Buhari To Depart Lagos For International Conference On Agriculture In Dakar
According to a statement by Buhari's Special Adviser on Media and Publicity, Femi Adesina, the President led Governor Babajide Sanwo-Olu of Lagos State; the Minister of Transportation, Muazu Sambo; the Chinese Ambassador to Nigeria, Ciu Jianchun; top government officials; and traditional rulers, to witness the overloading from the container ship, sailing under the flag of Malta.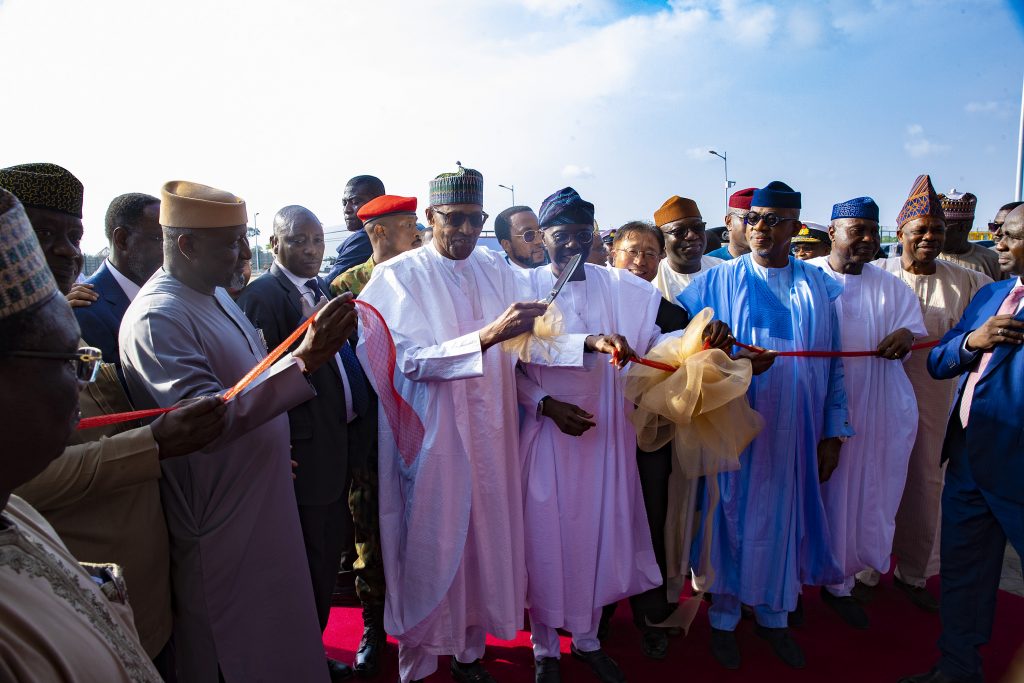 The Lagos governor, who addressed the President on the occasion, said the size of the vessels that will berth at the port would be four times the size of vessels that currently berth at Apapa and Tin Can Island Port.
"We are excited that in your own time, something fresh has been birthed in this country and it is going to generate thousands of direct and indirect jobs," he said.
In the same vein, the Imota Rice Mill inaugurated by the President was "conceptualised and completed by Governor Babajide Sanwo-Olu."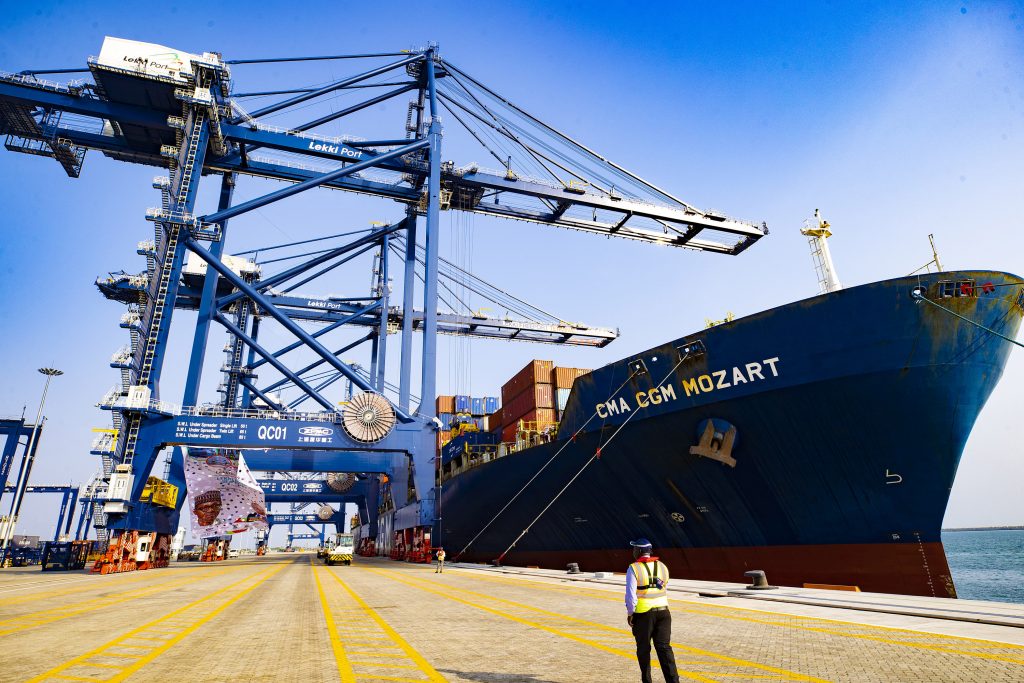 The Bestaf Lubricant, a 200-million-litre lubricant plant, which covers the whole value chain of lubricants, is described as the first of its kind in West Africa.
On Tuesday, the President will inaugurate the "historic first Phase of the Blue Line of the Lagos Rail Mass Transit in Marina and the John Randle Centre for Yoruba Culture and History at Onikan roundabout."
See the full statement below:
LEKKI DEEP SEA PORT ROARS TO LIFE AS PRESIDENT BUHARI OBSERVES HISTORIC OFFLOADING FROM CONTAINER SHIP

Ø INAUGURATES RICE MILL; BESTAF LUBRICANT PLANT FIRST-OF-ITS-KIND IN WEST AFRICA

Ø CHINESE AMBASSADOR: LEKKI DEEP SEA PROOF INVESTMENT CLIMATE IN NIGERIA CAN BE TRUSTED

President Muhammadu Buhari on Monday officially inaugurated the Lekki Deep Sea Port located in Itoke village, Ibeju-Lekki, Lagos, observing the offloading from CMA CGM Mozart at the Quay.

This project with an investment in excess of $1.5 billion is a Joint Venture between the Federal Government of Nigeria through the Nigerian Ports Authority, Lagos State Government, the Tolarams Group (the owner of the Lagos Free Zone), and China Harbour Engineering Company.

In Lagos, the President also inaugurated the Imota Rice Mill, conceptualized and completed by Governor Babajide Sanwo-Olu of Lagos State as well as the Bestaf Lubricant at MRS Holdings Company Limited.

The 200m litre lubricant plant, which covers the whole value chain of lubricants, is the first of its kind in West Africa.

On Tuesday, the President will inaugurate the historic first Phase of the Blue Line of the Lagos Rail Mass Transit in Marina and the John Randle Centre for Yoruba Culture and History at Onikan roundabout.

At the commissioning of the Lekki Deep Sea Port, the President led Governor Babajide Sanwo-Olu of Lagos State, the Minister of Transportation, Muazu Sambo, the Chinese Ambassador to Nigeria, Ciu Jianchun, top government officials and traditional rulers, to witness the overloading from the Container Ship, sailing under the flag of Malta.

Speaking at the occasion, the Lagos Governor said:
"Mr President, we are happy this is happening in your time. It all started in your time and it's been completed in your time.

"We are excited that the size of the vessels that will berth at the port would be four times the size of vessels that currently berth at Apapa and Tin Can Island Port.

"We are excited that in your own time, something fresh has been birthed in this country and it is going to generate thousands of direct and indirect jobs."

The Minister of Transportation noted that the commissioning of the project was made possible by the expedited manner the President handled all requests made by the Federal Ministry of Transportation concerning Lekki Deep Seaport.

"The very fact that the letter of intent between the proponents of Lekki Deep Seaport and its financial partners was signed as recently as April 2019 and by January 2023 the wide-ranging impact project is already being commissioned is a testament to the tenacity of purpose of the Federal Ministry of Transportation through the Nigerian Ports Authority."

He thanked the President for approving the Ministry's extraordinary request to designate Lekki Deep Seaport as Customs Port and approved Wharf and its publication in the Federal Government Official Gazette in record time.

"With Seaports being under the exclusive legislative list, the Nigerian Ports Authority's provision of a sinking fund for Lekki Deep Seaport Federal Government's equity contribution gave this project the necessary statutory cover and financial guarantee in line with the law.

"Completing a project of the magnitude and impact of a deep seaport in a record time of 45 months shows the effectiveness of tenacious ministerial supervision, strict regulatory oversight and strong presidential backing."

Sambo, who described the project as one of the major legacies of this administration, added that over 170,000 jobs would be created as operations commence.

The Chinese Ambassador to Nigeria, in his goodwill message, said the landmark gateway project jointly built by five parties from four countries is a fitting example of a good business model.

"This project is a joint venture between China, Nigeria and Singapore, and is run by a French company. The model of 'five parties from four countries' is a way of taking advantage of the wisdom and strength of all parties."

He pledged that China would promote this business model to pursue the Win-Win outcome, particularly to the growth, development and progress of Nigeria.

Using the analogy of three initial 'E words', the Ambassador said the project is Engine of the Economy, Equity of Investment and Example of Model Business.

On Engine of Economy, Jianchun explained that the Port is the number one deep sea port in West Africa and one of the most modern and efficient ports in sub-Saharan Africa.

"It is estimated that the overall economic benefits will reach more than 360 billion USD, becoming a new engine of economic development that will empower the southwest region and the whole country."

As an equity investment, the Ambassador described the port as a valuable practice for Chinese companies to move from the role of Engineering, Procurement and Construction (EPC) contractor to a strategic investor in building major infrastructure projects in Nigeria.

"The government doesn't need to worry about the existence of guarantees or debt risks. It also shows that the investment climate in Nigeria can be trusted. We have every reason to be confident in Nigeria's future development."

The Managing Director, Nigeria Export Processing Zones Authority (NEPZA), Prof. Adesoji Adesugba, recalled when the construction of the port began in June, 2020, with the flag-off by Mr. President, very few Nigerians believed that it would become a reality, especially with the challenges of COVID 19 ravaging the country and the entire world at that period.

"Therefore, we should all be proud as Nigerians that this has not only become a reality, but a Free Zone has built and completed the largest sea port within four years which will reposition Nigeria as a regional hub globally for maritime business."

He pledged that NEPZA would continue to give Lagos Free Zone, and indeed, all free zones licensed under it, the institutional support required to sustain this project and all other projects being conceptualized in the free zones.

"We are ready to lead in partnering with agencies at National and Sub-National levels, and the private sector to provide the needed support for this investment to thrive.

"Particularly, we will partner with the Nigeria Custom Service to perform its role effectively in order to achieve the objective of making this project stand as a testament to the legacy of President Muhammadu Buhari.

"We must not allow the momentum generated by the commissioning today to wane. All hands must be on deck to sustain this reality, " the head of Nigeria's free zone regulatory authority said.

At the Bestaf Lubricant plant owned by Sayyu Dantata, the founder and CEO of MRS Holdings Limited said the plant, which has the capacity of producing 1,700 different products, will contribute to foreign exchange generation for the country, through products export, as well as meet the needs of other neighbouring countries.

Femi Adesina
Special Adviser to the President
(Media & Publicity)
January 23, 2023