Less than a month ago, Scottish National Party (SNP) leader Nicola Sturgeon said she still had "plenty in the tank" following the shock resignation of New Zealand's prime minister.
Now the 52-year-old is following Jacinda Ardern out the door, after coming under pressure from a fierce row over transgender rights, and as Scotland's push to independence appears to stall.
It marks the surprise departure of one of Britain's most formidable politicians.
But like Ardern, Sturgeon said she felt unable to give "every ounce of energy that it needs" to see out the high-pressure job, and it was her "duty" to make way for a new SNP leader.
Acknowledging the strains of office after more than eight years as leader, and the same period as deputy first minister before that, she said: "I am a human being as well as a politician."
The transgender controversy erupted over a male rapist who had changed gender after being convicted. Under contentious reforms pushed through by her SNP government, they would have been allowed to serve in a women's prison.
In a move unprecedented since Scotland won back self-government in 1999, the law was blocked by the UK government in London, and Sturgeon's handling of the affair drew internal SNP criticism.
Above all, the party's raison d'etre — Scottish independence — has been hitting the buffers despite her attempts to up the ante, after the UK government rejected its demands for a new referendum.
Criticism has mounted over Sturgeon's intention to turn the next UK general election into a vote to leave, leaving voters with a stark choice that some in the party fear could rebound on the SNP.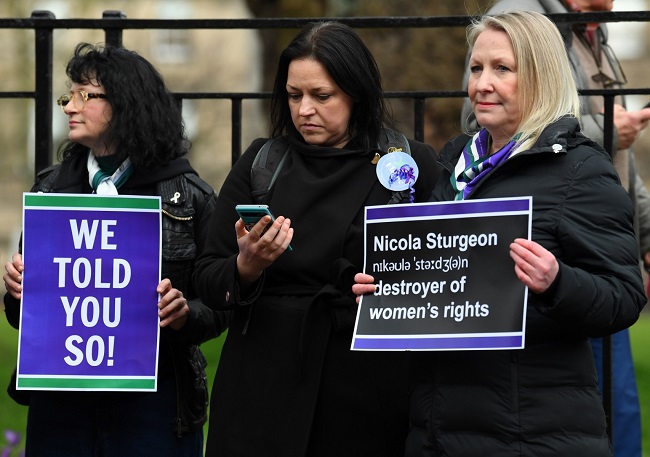 – Disagreements –
But she remains relatively popular in opinion polls and has been a towering presence with a reputation for assured leadership since becoming first minister in 2014.
Amid the Covid pandemic, in the 2021 Scottish Parliament election, the SNP won a record 64 of the 129 seats — but one short of a majority on its own. It allied with the Greens to continue in government.
The build-up to the elections was marred by mudslinging between Sturgeon and Alex Salmond, her former mentor and predecessor as first minister.
The pair fell out spectacularly over Sturgeon's handling of sexual harassment claims against Salmond.
Disagreements between the two political heavyweights reverberated into the election campaign and Salmond formed his own pro-independence party called Alba. But it failed to win a single seat.
Salmond and his supporters, however, could point to Sturgeon's continuing failure to win new momentum for independence.
In November, the Supreme Court in London sided with the UK government's contention that Edinburgh lacked the power to call a new referendum on its own.
Sturgeon said the ruling exposed the "myth" that Scotland could voluntarily leave the United Kingdom.
The SNP-led government would now look to use the UK election due by early 2025 as a "de facto referendum" on separating after more than 300 years, Sturgeon said.
– 'Queen of Scots' –
But several surveys have shown waning popular support for breaking away, after Scottish voters rejected independence in 2014.
For Sturgeon and the SNP, Britain's vote in 2016 to quit the European Union changed the picture entirely. A majority of Scots wanted to stay in the EU.
A former lawyer labelled "Queen of Scots" by some in the media, Sturgeon argues for socially conscious policies she says were abandoned by the centre-left Labour party, once the dominant force in Scottish politics.
She was born in the industrial town of Irvine southwest of Glasgow, in 1970 to an electrician father and a mother who was active in local SNP politics.
Sturgeon joined the SNP aged 16, becoming politicised in the 1980s when Conservative Margaret Thatcher, still widely reviled in Scotland, was Britain's prime minister.
She studied law at Glasgow University and stood unsuccessfully for the House of Commons in 1992, aged just 21, before starting her career as a lawyer.
When the Scottish Parliament was created in 1999, with Labour ahead of the SNP as the biggest party, Sturgeon was one of its first wave of lawmakers.
Her nickname at that stage was "nippy sweetie" — Scots slang for a pushy person.
Her mother Joan once joked about her daughter's hard-working tendencies: "The phone is never switched off — many of my family can vouch for that."
Sturgeon married SNP colleague Peter Murrell in 2010.
The partnership has come under scrutiny after Murrell, the party's chief executive, was also embroiled in the Salmond investigation and questions have mounted over a loan he extended to the SNP.