Chairman/Chief Executive Officer of the National Drug Law Enforcement Agency, NDLEA, Brig. Gen. Mohamed Buba Marwa (Retd) has commended officers, men and women of the anti-narcotics body for their good conduct, visibility and blocking access to illicit substances during the Presidential and National Assembly election at the weekend.
The Agency as a member of the Inter-Consultative Committee on Election Security, ICCES, had deployed almost 10,000 personnel across the country during the Saturday election with a Situation Room at its National Headquarters in Abuja for a round the clock monitoring of the polls through field reports from officers and men spread nationwide.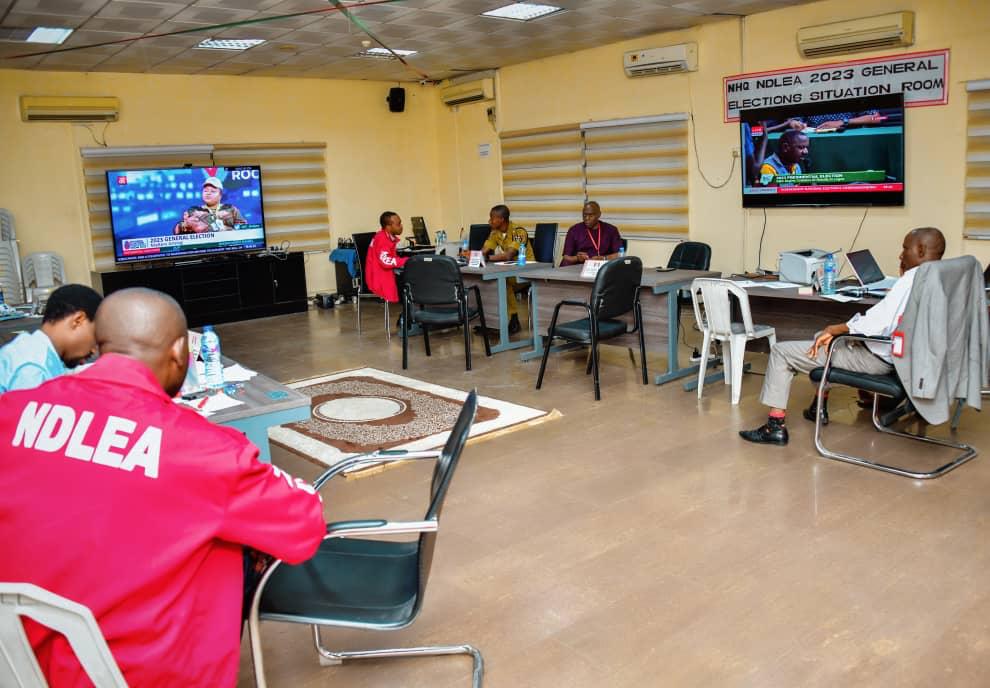 In his reaction to the preliminary reports collated across all the Area, State and Zonal Commands of the Agency, Gen. Marwa said he's satisfied with the professional conduct of NDLEA personnel deployed across the country, their working synergy with other security agencies and most importantly, ensuring that the electoral process was free from the influence of illicit substances.
"I have no doubt in my mind that your recent offensive action operations leading to massive seizures of illicit drugs and the arrests of their criminal merchants across the country significantly contributed to the absence of free flow of psychoactive substances on our streets and communities during this critical time, especially with the recent destruction of over 400 tons of skunk warehoused in deep forests in a state for distribution across the country shortly before the election. I'm also glad that you all were of good and professional conduct throughout this period, and I will urge you to maintain this during the next round of election on 11th March", the NDLEA boss stated.
He charged them to remain vigilant and intensify their offensive action across the country between now and the next election with a view to ensuring that the influence of illicit drugs is removed from the governorship and state assembly elections nationwide on 11th March.