Atiku Abubakar says he is open to an alliance with the Labour Party (LP) presidential candidate Peter Obi. 
The PDP presidential candidate for the 2023 elections made the comment during a press conference in Abuja on Thursday, a day after Bola Tinubu of the All Progressives Congress (APC) was declared as the winner of Saturday's exercise.
While the PDP and LP have rejected the outcome of the poll, Atiku, who ran alongside Obi in the 2019 election, says he is open to working with the former Anambra State governor.
"So, as far as I am concerned, Peter is welcome to dialogue with the PDP. We are ready to dialogue with him. I don't think we will have a problem if he wants to dialogue with the PDP, whether for an alliance or not," he said during the event.
Obi, who was a former chieftain of the PDP left the party before the presidential primary and joined the LP where he became its candidate.
But Atiku has faulted the move which he said was "hasty" and not well-thought-out.
"At the time Peter decided to leave the PDP for the Labour Party, we had not really begun our primary process," Atiku explained. "So, the question of whether he was going to get a ticket or not did not arise."
"I think Peter was in a rush (to leave)," he said. "Peter got scared and left. I did not get scared. I stood up against the governors.
"When we formed the PDP some of them (PDP governors) were perhaps in secondary schools or the university. So if he (Obi) was there, nothing could have stopped him from becoming a running mate because I had the right to choose whoever I wanted to choose as my running mate."
READ ALSO: Presidential Election Largely Flawed And Must Be Challenged – Atiku
'Grossly Flawed'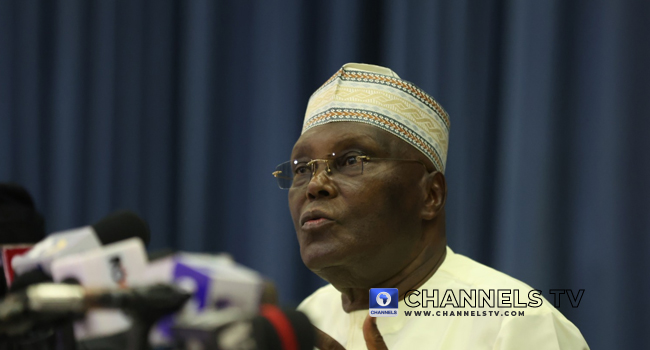 He claimed the LP flagbearer only took votes in PDP strongholds and could not have won the presidential election relying just on the South-East.
"Agreed; that it is a fact that he took our votes in the South-East and South-South and that of course would not make him a president. You all know that to be a president of this country, you all need votes from every part of the country," he added.
The PDP candidate berated the Independent National Electoral Commission (INEC) over the conduct of the elections, accusing it of shattering the dreams and aspirations of Nigerians.
"Having consulted with leaders of our party who are seated here with me and Nigerians from different walks of life, I have come to the conclusion that the processes and outcome of the presidential and national elections on Saturday were grossly flawed by every single material and as such, must be challenged by all of us," Atiku said.