Tems was a work of art that deserved to be seen at the 2023 Oscars while wearing an eye-catching white ensemble that was literally the centre of attention.
A nominee this year in the best original song category, the musician and producer Temilade Openiyi debuted one of the night's more extravagant looks: a voluminous gown from the LA-based label Lever Couture to the 95th Academy Awards. While undeniably beautiful, the "No Woman, No Cry" singer's gown obstructed the view of her fellow audience members, initiating a debate about whether the magnitude of her outfit was fair to those around her.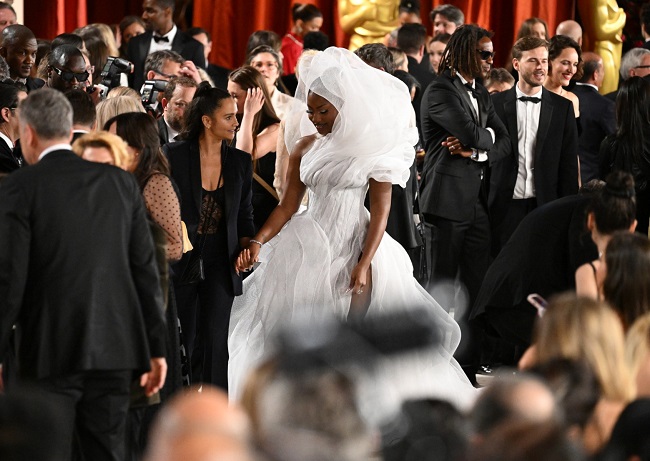 The dress in question was from the designer's Leleka collection, which debuted at Tokyo Fashion Week in 2022. Dunsin Wright styled the sculptural silhouette, which featured billowing wisps of fabric that curved in a smoke-like design from Tems's left shoulder to her right leg. The floor-length train and structured hood looked like a cloud in the wind. She accessorised the look with Amina Muaddi's rhinestone-embellished heeled sandals, multiple diamond earrings, and matching jewelery on her wrists and hands.
Social media was initially enamoured with the singer's all-white ensemble, while describing it as ethereal and angelic; praising her fashion sense, poise, and aesthetic on the red carpet.
However, once the ceremony began, many people changed their tune. Soon after, photos of the "Try Me" singer's gown obstructing the view of several Oscars attendees began to circulate online.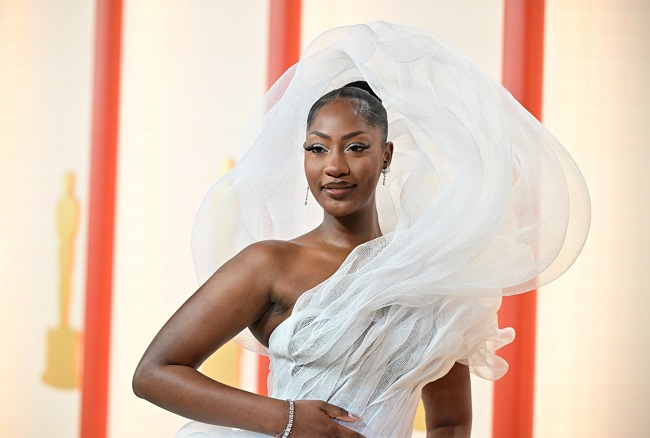 For many, the enigmatic design was one of the evening's most fabulous fashion moments. Others, including those seated behind Tems at the award show, found the hooded cape to be an inhibiting factor to seeing the presentations. One viral video tweet showed a lady poking her head around the dress to get a better view of the stage.
Several other audience members were seen craning their necks during the show to get a better look at the show's host, Jimmy Kimmel, and other entertainers who graced the stage.
After photos of Tems' ensemble went viral on social media, viewers were quick to weigh in on whether the massive gown was appropriate for the year's biggest movie night. "That woman peeking her head around Tems' dress is sending me to the moon," one Twitter user wrote. "Tems is killing me sitting in that dress," another user added.
While some held that Tems was unfair to other celebrities by blocking their views at the award show, others argued that the singer's voluminous look deserved to be seen. "The headpiece of Tems' dress is blocking everyone seated directly behind her and I am SO here for IT," Dr. Nicki Washington tweeted during the award show. "Sis said you'll be fine."
In a separate tweet, British author Bolu Babalola pointed out that Tems's outfit could be symbolic of something greater. She said, "Actually it is an ironic symbol, she is taking up space as a Black woman, whilst the white not only represents a femininity BW have traditionally not had access to but also how whiteness has obscured and obstructed paths of progress, in this essay . . . "
The 27-year-old singer was in attendance because her contribution to Rihanna's "Lift Me Up" from Black Panther: Wakanda Forever was nominated for Best Original Song. Although Rihanna would later take the stage to perform her hit ballad, Tems' gown would dominate discussions.
Several social media users shared their thoughts online, but Twitter users were the most vocal, as usual.
#Oscars2023 #Tems
Tems did the unimaginable, the unthinkable – she dared to STAND OUT & BE NOTICED as an unambiguous AFRICAN WOMAN at a global event

Where was all this concern for people's wellbeing when Lady Gaga wore a meat dress?? She made people sit next to decaying flesh & https://t.co/brkGzSRsDy

— ERUCHALU, Clear water. (@bronze__b11ch) March 13, 2023
It's how racist everyone gets when someone from Africa does something, everyone is bashing Tems for her outfit but same y'all didn't say sh!t when cardi wore it or when lady Gaga or Beyonce wore bigger outfits, shame on y'all. No Tems slander will be tolerated here. #tems pic.twitter.com/Gl4g8DMq7D

— Wizkid's 1st Wife🥰 (@Prettygirlcynty) March 13, 2023
It makes white people absolutely ILL to see Black women Thriving and taking up space. Mr. Bellini you and everyone behind #tems can SUFFER ☁️💅🏿 #Oscars https://t.co/9IHDZO2TKo pic.twitter.com/gsARW4pLZ3

— Jagger Blaec🖤🐈‍⬛ (@BasicBlaecGirl) March 13, 2023
Tems & Conditions #Oscars2023 #Oscar #Tems pic.twitter.com/FojTqdwuBf

— Nana Mitch🦋 (@nana_mitch) March 13, 2023
Nobody is talking about the #Oscars. Everyone is talking about #Tems https://t.co/qd7Rks5wEz

— ABUJA MIXOLOGIST #PETEROBI (@i_am_UCHE) March 13, 2023
From #SoreLoser #AngelaBassett to #Entitled #SamuelLJackson to #Rude #Tems , African Americans were the WORST BEHAVED for the second year at the Oscars. Why so rude??? You've made it. Not everyone can win everything and there's no reason to block someone's view! #Oscars https://t.co/PpimPqBtab

— NaomiSky15 (@NaomiSky_15) March 13, 2023