Seven persons were rescued from the collapsed building in the Banana Island, Ikoyi area of Lagos State, the National Emergency Management Agency (NEMA) has said.
The seven-storey structure under construction collapsed on Wednesday but no lives were lost.
But while giving an update about the incident on Thursday the Lagos Territorial Coordinator of the agency, Ibrahim Farinloye, said apart from the rescued victims, one person was rushed to a hospital where he is being treated.
"We started moving from one layer to another and during this emergency response, we were able to rescue seven people alive," he said.
"Those people that were rescued were treated on the spot and discharged. It is the only one that was taken to a private hospital where he is receiving adequate treatment."
While hailing the emergency responders for their swiftness, the NEMA chief assured that the agency won't leave any stone unturned to ensure that "nobody is left there and the job is being done professionally".
For other buildings on the construction site, Farinloye said "we are going to carry out holistic investigations" about them.
Lagos Govt Launches Probe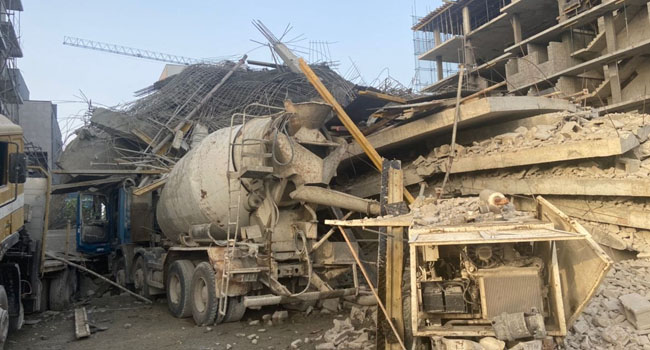 His comment re-echoes that of the Lagos State Government which in the wake of the building collapse began an investigation into the matter.
"The Lagos State government has swung into action. We are ensuring that some tests will be done by some engineers," the Special Adviser to the Governor on Special Duties, Mobolaji Obelende, told reporters at the site.
"We have all our agencies here – LASBCA, Ministry of Physical Planning, and others – doing what they are supposed to do professionally. Once that is done, we would be able to ascertain the current status and the next step would be taken."
Earlier, the Lagos State Commissioner for Physical Planning and Urban Development, Engr. Tayo Bamgbose-Martins, called for calm, saying the Ministry would update the public further about the incident.
"We ask members of the public to remain calm and expect further information from the Ministry," the Ministry said in a statement.
The development is the latest in a series of building collapses in Lagos and other parts of Nigeria.
Experts have attributed the situation to several factors including poor quality materials, and unprofessionalism among others.