China's economy grew much better than expected in the first three months of the year as the country reopened after the end of zero-Covid measures, official data showed Tuesday.
The figures were the first snapshot since 2019 of the world's second-largest economy unencumbered by the strict health controls that helped keep the coronavirus in check but battered businesses and supply chains.
After years of travel restrictions and quarantines, Chinese people in recent months have finally returned to restaurants and started to move around more freely, giving much-needed stimulus to services.
According to data published by the National Bureau of Statistics (NBS), the official growth figure for January to March was 4.5 percent — significantly higher than the 3.8 percent predicted by analysts in an AFP poll.
READ ALSO: Ralph Yarl: Man, 85, Charged Over Shooting Of Black Teen Who Rang Doorbell
A key driver of the standout reading was a bounce in retail sales, the main indicator of household consumption, as shoppers and diners once again hit high streets and malls.
Tuesday's NBS report said in the first three months of the year China had faced a "grave and complex international environment as well as arduous tasks to advance reform, development and ensure stability at home", but that economic stability was Beijing's "top priority".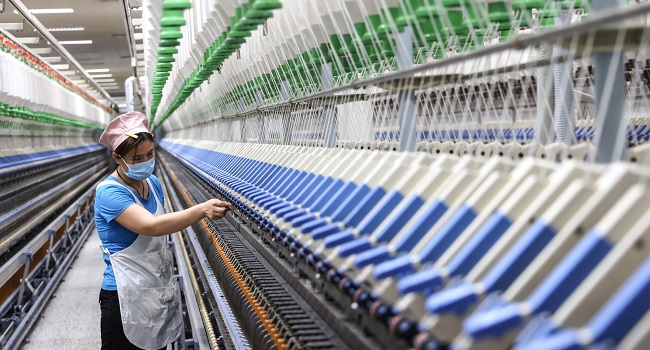 "As a result, a smooth transition in Coved-19 prevention and control to the new phase was secured in a relatively short time," the report said, adding "the production and demand registered a stable recovery, employment and prices".
Beijing's virus-containment policy — an unstinting regime of strict curbs on the population — strongly constrained normal economic activity before it was abruptly ditched in December.
The Chinese economy is also beset by a series of other crises, from a debt-laden property sector to flagging consumer confidence, global inflation, the threat of recession elsewhere, and geopolitical tensions with the United States.
Retail sales surged 10.6 percent on-year in March, the biggest increase since June 2021, though industrial production climbed 3.9 percent last month, an improvement from January-February but below analysts' expectations of 4.4 percent.
'Sweet spot' 
"Consumption saw a recovery during the first quarter partly because of pent-up demand but is not yet back on pre-pandemic levels," Teeuwe Mevissen, an analyst at RaboBank, said.
"Loss in household wealth due to the real estate crisis and loss of household income during the pandemic are factors why consumers have not spent more."
Iris Pang, the chief economist for Greater China at ING, said the primary reason for the faster-than-expected growth was the much stronger growth in retail sales, which were "mainly boosted by catering".
And according to Ting Lu, Chief China Economist at Nomura, there was more growth expected in April to June as China heads into "another quarter in the sweet spot".
"Due to a sharp drop in the comparison bases as a result of the Shanghai lockdown last year amid ongoing strength in the in-person services sector, we expect year-on-year GDP growth to rebound further in the second quarter," he said.
Modest growth target
China's economy grew just three percent in the whole of last year, one of its weakest performances in decades.
It saw 4.8 percent expansion in the first quarter of 2022, though that slowed to just 2.9 percent in the final three months of the year.
The government has set a comparatively modest growth target of around five percent this year, a goal the country's Premier Li Qiang has warned could be hard to achieve.
An AFP poll of analysts predicted that the Chinese economy would grow by an average of 5.3 percent this year, roughly in line with the International Monetary Fund's 5.2 percent forecast.
Still, experts have warned that wider global trends could yet weigh on China's recovery.
Ken Cheung at Mizuho Bank said domestic consumption "proved to be the pillar" behind the economic improvement, but "industrial production was disappointing given the strong rebound in exports growth".
He added it will "take time for (a) business confidence recovery, which requires translating the credit expansion into money flow to support real economic activities".
AFP