With the flood reaching the rooftops, rescuers raced to save people in Kherson as water from the destroyed Kakhovka dam engulfed the southern Ukrainian city.
"We don't have a house anymore. You can't even see the roof," said Dmytro Melnikov, 46, who escaped from his flooded home with his five children.
"The whole district is underwater now. It's above the level of ground floors," he said, holding his daughter's hand.
Rescuers used small boats and amphibious vehicles to get to stranded locals, some of whom had to flee with little more than their passports.
The Dnipro River that flows through Kherson has risen by more than five metres since the dam upstream was destroyed early Tuesday, and officials expected it to keep rising throughout Wednesday.
Laura Musiyan, from Kherson's hydrometeorological centre, had bloody knuckles and scratched feet from falling in an open sewer when measuring water levels.
"Many people don't evacuate because they hope the water will recede quickly. But so far, there is no good news," she said.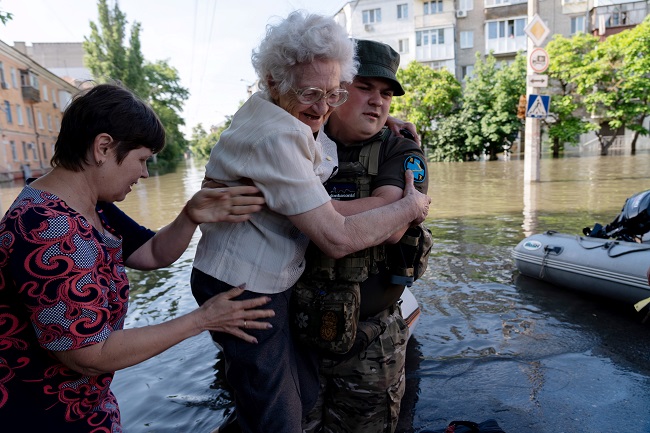 – 'Real nightmare' –
Some locals had to take their lives into their own hands by swimming through the water, and one man paddled to safety on an inflatable mattress.
Nataliya Korzh, 68, told how she had to swim part of the way to escape from her house, her legs covered with scratches, her hands trembling from the cold.
"All my rooms are underwater. My fridge is floating, the freezer, cupboards, everything," she said.
"To get to the room where the dogs were, I would have had to dive. I don't know what's happened to them," she said as she stepped out of a dinghy helped by two rescuers, her feet bare, wearing a wet top and sweatpants.
She was also unable to save her cat.
The rescuers — a combination of police officers, emergency services and troops — lifted people and dogs out of rubber dinghies onto dry ground and rapidly set off again to rescue more stranded residents.
"The guys came to collect me. My son phoned them," Nataliya said as she carried her medicine and a few bags of belongings.
"We're used to shooting, but a natural disaster is a real nightmare," she added.
– 'Danger' everywhere –
Teams of rescuers were constantly ferrying people, mainly children and the elderly and their pets, through the tree-lined streets. Others have had to fend for themselves, wading through the water.
"Local residents send us geolocations when possible and we pick them and their pets up," said Sergiy, a 38-year-old policeman who is helping coordinate the rescue efforts.
Svitlana Abramovych, 56, was organising the rescue of 22 residents still stuck in her five-storey block of flats, where the ground floor is flooded.
"The water started coming last evening and after 6 pm it flooded the building and the yard. The water came through the front doors and into flats on the ground floor," she said.
Some residents waved and smiled as they reached relative safety, but others trembled and cried.
They barely reacted to the sound of an air raid siren and artillery in the distance. Kherson has been heavily shelled since Russia retreated from the city in November after annexing it only two months earlier.
"Now they are firing and at night something hit this district. Over there it's water, here it's explosions," said Svitlana, pointing at the water and towards the front line.
"It's danger from over there and from here."
– 'Used to explosions' –
"We're already used to these explosions, we don't care about them," said Melnikov, who has now decided to leave the city.
"We've lived here since the start of the war, we lived through occupation. But now we have no house, nothing, no work. We don't want to leave but what can we do? We can't stay here with the children."
The flooded-out residents crowded together, their belongings in bags piled on the grass. Several held pets.
A man wrapped in a blanket and wearing a head torch hugged a grey cat.
Volunteers took families to the bus station where some caught a free bus to the nearby city of Mykolaiv. Some were also being evacuated by train.
Residents from nearby areas were watching water rising in anguish, fearing their homes would be submerged as well.
In nearby Chornobaivka, locals watched in anguish as the previously dry riverbed was starting to overflow.
"There was no water here in the morning, and now there's a river," said 45-year-old Tatyana Iyoenko.
"I don't remember the river being full here since I was a child," she added. "I'm afraid that we will get flooded."