There was tight security and protest as one of the factional Speakers of the Nasarawa State House of Assembly, Ibrahim Balarabe, on Thursday held a plenary session.
During the plenary, the only female lawmaker of the 7th assembly, Hajara Danyaro, was sworn in.
Earlier, Hajara was not in either of the camps during the crisis but this swearing-in indicates her membership of the Balarabe-led factional camp.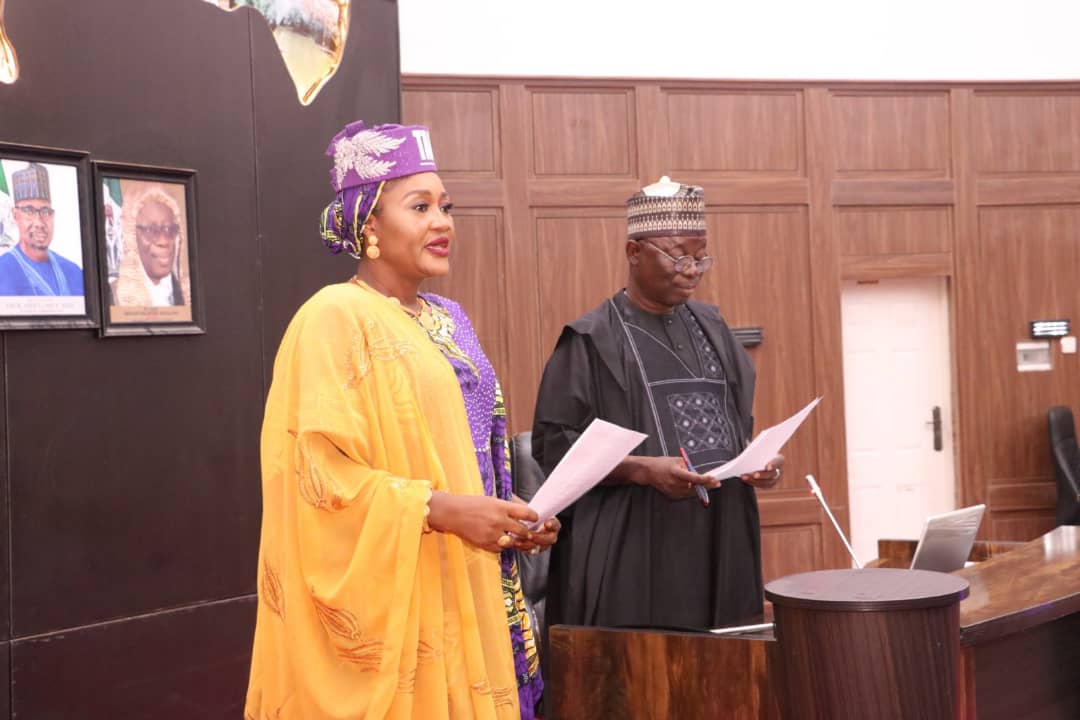 READ ALSO: Crisis Erupts In Nasarawa Assembly As Two Lawmakers Claim Speakership
Principal officers of the Balarabe camp were also announced. Adamu Omadefu was named as the Majority  Leader; Danladi Jatau, Deputy Majority Leader; Larry Ven-Bawa, Chief Whip; Suleiman Azara, Deputy Chief Whip; Ibrahim Musa of the New Nigeria People's Party (NNPP), Minority Leader; Musa Saidu of the Social Democratic Party (SDP), Deputy Minority Leader; Musa Saidu and Solomon Akwashiki of the SDP, Minority Chief Whip.
The members also approved the request of Governor Abdullahi Sule to appoint 20 Special Advisers.
Following the approval of the governor for the renovation of the Assembly complex, Balarabe called for a break, saying legislative duties will resume on July 10. This, he noted, is to enable the renovation work to commence.
Protest Erupts
A group tagged as "The Nasarawa Coalition for Justice" is protesting against the factional speakership of the 7th Nasarawa State House of Assembly. pic.twitter.com/ohTNkND9xe

— Channels Television (@channelstv) June 8, 2023
But as the plenary held, a group called "The Nasarawa Coalition for Justice" was protesting against the factional speakership of the Assembly.
They are calling for due process and non-interference in picking who leads the 7th Assembly.
The group mostly aged women adorned in black attire staged the protest in front of the Assembly complex in Lafia.
These developments came in the wake of the emergence of two factional speakers for the Assembly.
Asides from Balarabe, Daniel Ogazi, also emerged to lead the 7th Assembly.
The inauguration of the Assembly was expected to hold on Tuesday, June 6th. However, the clerk of the House Ibrahim Musa postponed it owing to security issues.
Security personnel had barricaded the House of Assembly forcing the Ogazi faction and its followers to remain within the premises till 6 pm.
While Balarabe was elected speaker, Jacob Kudu emerged as his deputy. They were backed by 11 members at one of the state ministries. Thereafter, the acting clerk, Ibrahim Musa, swore them in.
But at the Assembly complex, 13 lawmakers elected Ogazi and Adamu Oyanki (as his deputy).
Balarabe and Ogazi are both members of the ruling All Progressives Congress (APC).
Thereafter, Governor Abdullahi Sule received the duo and other members at the Nasarawa State Government House in Lafia.