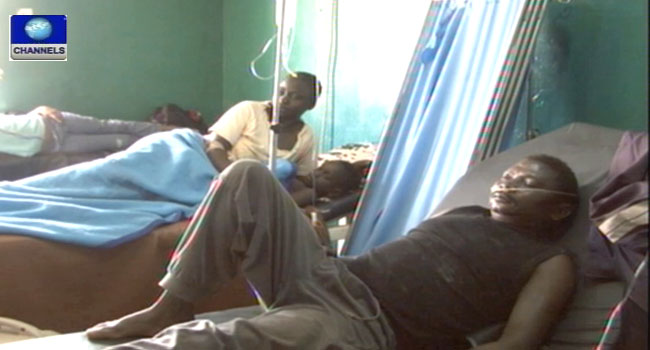 Eight persons have been confirmed dead and over 100 hospitalised after a Chlorine cylinder explosion in Jos, the capital city of Plateau State in north-central Nigeria.
The injured victims of the Chlorine cylinder explosion at the Plateau State Water Board treatment plant at Dogon Karfe in Jos South Local Government Area, are currently receiving treatment at various hospitals.
The acting Chief Medical Director of Plateau State Specialist Hospital, Dr Philemon Golwa, explained that a leakage at the plant was responsible for the deaths, as residents around the water treatment plant inhaled the chemical.
Mr Golwa said others persons affected were receiving treatment for irritation of respiratory tracks, cough, headache and body weakness.
Having visited the scene of the incident, Zonal Director of the National Environmental Standards and Regulation Agency (NESRA), Dr William Arabs, advised residents to report to any hospital for check-up.
The General Manager of the Plateau State Water Board, Lambart Gomzuk, said the quick response of his agency, the Water Resources and Rural Electrification Ministries, was responsible for early evacuation of victims to the hospitals where they are receiving treatment.
He blamed the residents for encroaching into some sensitive areas such as the treatment plant.
The State's Permanent Secretary, Ministry of Water Resources, Hanatu Dantong, said the situation had been contained by government agencies.
She assured residents that the contamination did not affect the water supply to the public through the main water pipes, stating that it was safe for human consumption.
Mrs Dantong added that efforts were being made to relocate people within such sensitive areas.
Meanwhile, President Muhammadu Buhari has ordered a thorough investigation of the chlorine gas explosion.
"The investigation should unravel the facts as to whether this was just an accident.
"Whatever is the case, we need to get to the bottom of this unfortunate and tragic incident," the President said while commiserating with the families of the victims and the government and people of Plateau state over the incident.