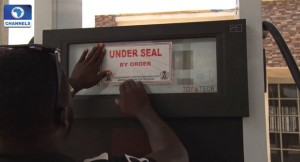 The Department of Petroleum Resources (DPR) has provided Benue sate  residents with dedicated telephone lines and daily manifest to to track sales and distribution of products. 
The development is part of surveillance and monitoring efforts stepped up to ensure adequate supply of petroleum products across the state.
The new strategy, according to the Operations Controller for the DPR in charge of Benue and Nasarawa States, Mr Benjamin Ewuga, is aimed at eliciting public support to help curb product diversion being perpetrated by marketers in the state.
He told reporters that the dismay was that over 11,000 out of a 33,000 litres of fuel was fraudulently diverted by a marketer in Makurdi, only for the product to surface when the DPR team began sealing off service stations.
Over 529,000 litres of petroleum product were received by major oil marketers in Benue State, as daily supply for May 3.
The DPR team moved around town to enforce the 86.50 Naira official price on defaulting service stations.