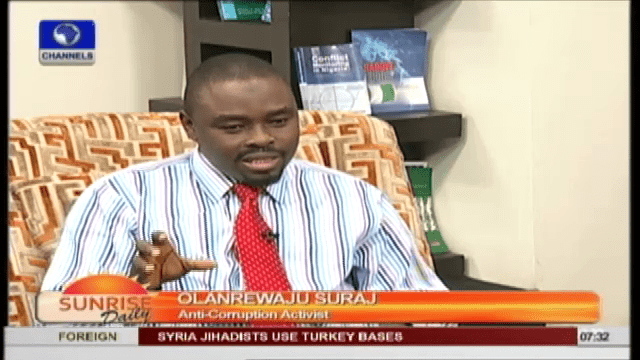 An anti-corruption activist, Olanrewaju Suraj, has blamed Nigeria's poor assessment in achieving the Millennium Development Goals on political corruption which the citizenry allowed to fester.
"The bane of Nigeria's crisis is political corruption and political corruption is why we could not meet the MDGs," he said.
In a message to commemorate the 2013 World Anti-corruption Day, on Monday, the United Nations Secretary-General Ban Ki-moon said "corruption is a barrier to achieving the Millennium Development Goals and needs to be taken into account in defining and implementing a robust post-2015 development agenda."
Speaking on Channels Television's breakfast programme, Sunrise Daily, Suraj blamed the government for lacking a clear cut plan in putting an end to corruption.
"Corruption has crippled the government's efforts in achieving success in the MDGs. Corruption thrives because moral values are not well promoted in schools," he stressed.
"It boils down to the government," he said and added that "the erosion of the culture of the people and our tradition to uphold and appreciate our values in terms of promoting it on the part of the government.
"Rarely would you see a clear defined agenda or programme of action to continue sustaining the values of the people."
He decried the absence of basic moral instruction in primary and secondary schools across the nation.
The failure of government to provide basic social amenities for the people is the vacuum criminals take advantage of by providing succor for the people.
As part of this year's activities, each country is expected to showcase what it has been doing to mitigate encumbrances to the achievement of the MDGs but Nigeria has not been able to achieve much despite the fact that the problems and solutions have been identified.
He however stressed that the citizenry should be held accountable for the failures experienced.
"We need to stop lamenting and we need to stop blaming the government for many of these anomalies," he said and added that "the people will need to start taking responsibilities for our failure to ask the appropriate questions, to stand up when it is right to say no this cannot continue."
He blamed the citizenry for allowing charlatans to attain leadership positions.