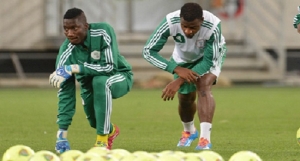 The Nigeria Football Federation (NFF) have asked the Flying Eagles to win the 2015 U-20 African Youth Championship in Senegal.
NFF Deputy Secretary General, Emmanuel Ikpeme, reminded the team that the entire country is looking up to them to win the continent's championship in Senegal.
"On behalf of the president of the NFF, I wish to congratulate the players who made the final squad to the AYC in Senegal," he said in a very passionate address to the team.
"The President is particularly delighted that the bulk of the squad to Senegal are from the team who won the U17 World Cup two years ago.
"The target to the team therefore is for the team to win the AYC and confirm that winning the U17 World Cup was not a fluke.
He added: "Your first match will be against the hosts country Senegal and do not expect it to be an easy match but we believe you are up to the task going by what you showed in your recent test matches in Ghana.
"We should not take any match or opponent for granted and so you should resolve as a team to make Nigeria happy and proud in Senegal."
Flying Eagles coach, Manu Garba, assured that the team are fired up for glory in Senegal.
"We as a team always want to win every game we play and that is the attitude we will take to the AYC," Manu said.
"We will not underrate any team in Senegal, but we are confident we will do the nation proud."