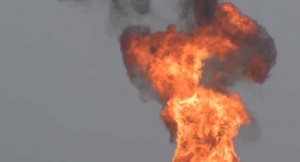 A fire incident has razed a shopping mall, Phil-hallmark supermarket, along Sapele road in Benin City, the Edo state capital.
The incident which occurred in the early hours of Sunday December 11, 2016, is said to have destroyed properties worth hundreds of millions of Naira.
According to some witnesses, the inferno started at about 3:00 am from the top floor of the building, they decried the poor response to the situation by men of the edo state fire service.
Speaking to journalists at the scene, the Director of the Edo State Fire Service, Agbonlahor Franklin, confirmed that no life was lost in the inferno, while attributing his agency's delayed response, to lack of adequate equipment.
He however appealed to well-meaning individuals to assist the fire service when cases of this nature occur, adding that the cause of the fire could not be determined at this point.