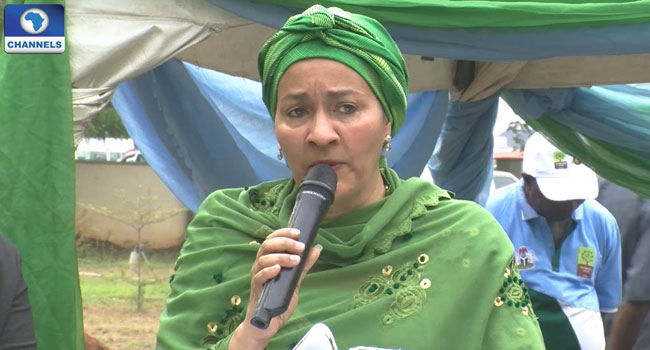 The Nigerian government says concerted efforts are being harnessed among all major stakeholders to begin an expansive programme to protect and sustain the environment as intense talks continue globally on tackling and managing climate change successfully.
The Minister of Environment, Amina Mohammed gave this indication during a 2-day facility tour of Forestry Research Institute of Nigeria (FRIN), Jericho, Ibadan.
Mrs. Mohammed hinted that President Muhammadu Buhari is focused on investing heavily in research institutes across the length and breadth of Nigeria and FRIN is a critical partner to the country in environmental preservation and controlling the ills of climate change.
She said that the era of Federal Government just awarding contracts for various projects at research institutes is gone and replaced with sincere determination to ensure that the research facilities in Nigeria not only live up to expectation, but also provide jobs for the teeming youths of the country.
The Minister, who was led into the over four hours facility visits of various departments and sections of the agency by the Executive Director, FRIN, Dr Adeshola Adepoju, described the agency as an asset and a platform for evidence based research in Nigeria.
She noted climate change has eaten up some portions of the environment and research institutions like FRIN are needed to reclaim the environment.
The Minister said that the narrative among Nigerians on environmental protection must change with a carefully laid out plan to avoid wastage and turn existing ones to wealth.
She also assured Nigerians that the Buhari-led administration would end the era of plastic waste on Nigerian roads and open defecation, to safeguard the natural environment and as well provide job opportunities for the citizens.
"By 2019, we will end an area of plastic bags, pure water sachets and bottled water as waste on the streets. We're not banning it because we cannot ban it, but getting the plastic companies to collect it, pay for it and we turn waste to wealth and they recycle it.
"The government plans to end open defecation in public places by 2019 through partnership with the private sector and erect toilets in public places like motor parks, markets, hospitals,and schools."
She further reiterated the need to restore dignity in peoples' lives and at the same time help provide jobs with the private sector and change the perception of the people with safety practices.