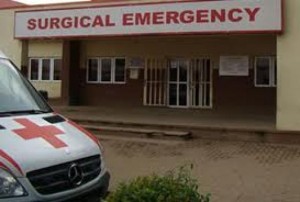 Resident Doctors have commenced a 3-day warning strike across the country.
Patients at the Lagos University Teaching Hospital, LUTH, are stranded as the doctors there enforced the strike.
In Abeokuta, the Ogun State capital, Resident Doctors of the Federal Medical Centre, Idi Aba joined their colleagues nationwide in the ongoing 3-day warning strike.
A visit to the hospital revealed that although the resident doctors have withdrawn their services as directed by the national body, the action seemed not to be having much impact as nurses and consultants attended to patients.
Attempts to speak with the union leaders and management of the hospital proved abortive as they said they were not willing to speak on this development.
In Abuja, Nigeria's Federal Capital Territory, the strike was in force also, but the Spokesperson of the National Hospital, Dr Tayo Haastrup, said that the welfare package of resident doctors can be negotiated with the Federal Government without putting the lives of teeming Nigerians at stake.
Resident Doctors at the Federal Medical Centre, in Owo, Ondo State also joined their counterparts across the country.
Channels Television was at the hospital to monitor the situation at the hospital. Though our crew was not allowed into the wards by the security officials at the hospital, there activities to indicate that other health workers in the hospital were at work.
We had an interview with the Chairman, Association of Resident Doctors in the hospital, Raymond Omotayo who highlighted the demands of the association from the federal government, noting that if the demands are not met by July 1, 2015, the Doctors will be forced to embark on an indefinite strike action.
All our efforts to speak with the Chief Medical Director of the hospital, Dr Femi Omotosho proved abortive as he was said to be out of the state and other senior officers in the hospital were not willing to speak to our correspondents.
Resident doctors in Rivers State were not left out in the strike as Channels Television visited the Braithwaithe Memorial Specialist Hospital in Port Harcourt, where patients were seen waiting to see doctors that were not available.