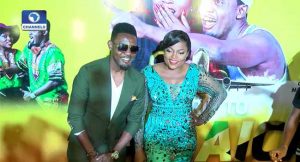 Popular Comedian turned filmmaker, AY, adds another feather to his cap after breaking the Nigerian box-office record, with his new film 'A Trip to Jamaica".
The movie's prequel, '30 Days in Atlanta',  was the highest grossing film of 2015, in Nigerian cinemas, beating other Bollywood, Nollywood and Hollywood films.
'A Trip to Jamaica', which premiered on September 30, 2016, has grossed 170 million Naira, surpassing that 137 million Naira record.
The movie also passed top Hollywood flicks including "Batman vs Superman," "Suicide Squad," "Captain America," "Doctor Strange," to become the highest grossing movie of 2016 in West Africa.
AY took to Instagram where he said:
"Comedian AY breaks his own '30 days in Atlanta' Guinness world record with 'A trip to Jamaica'.