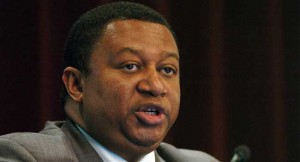 A former Group Managing Director of the Nigerian National Petroleum Corporation (NNPC), Mohammed Barkindo, is the new Secretary-General of the Organisation of Petroleum Exporting Countries (OPEC).
He replaces Libya's Abdalla El-Badri, who had completed full terms.
OPEC has been looking for a replacement for El-Badri, who was elected as acting Secretary-General in December until the end of July after serving full terms.
Oil ministers from the 13-member group of powerful oil producing countries met in Vienna, Austria on Thursday, July 2.
The consensus of all members, which in the past had sometimes been elusive, is required for the appointment of a new secretary-general.
Barkindo was the NNPC GMD from 2009 to 2010. He has also been an acting Secretary-Genmeral of OPEC in 2006.
The Federal Government nominated Mr Barkindo for the position citing his qualification and experience.