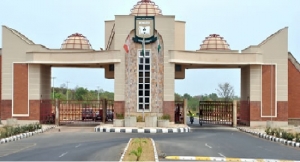 Staff of tertiary institutions in Kwara State have declared an indefinite strike following the non-payment of their six months salary arrears by the State Government.
Addressing reporters after an emergency meeting with their members on Friday, the state's Chairman of Committee of Union in Tertiary Institutions, Mr Abdulkareem Kannike, said that several efforts made to let the government see reasons fell on deaf ears.
The government on its part had urged the institutions to utilise their Internally Generated Revenue to offset the arrears, as the dwindling revenue from the Federal Government had affected its ability to meet its obligations.
Addressing reporters in company of leaders from various colleges, the State's Chairman of the Committee, said that several letters and meetings held with government officials met brick walls.
"The government is adamant. It claims that there is no money due to dwindling federal allocation.
"Since the government will not pay what it owed despite several sufferings by its staff and having exhausted all peaceful means, the committee has no option than to declare indefinite strike starting from Monday," he said.
Reacting to the proposed strike, the Senior Special Assistant to the Governor on Media, Dr. Muideen Akorede, agreed that the government was owing, but said it was not up to six months.
Dr Akorede blamed the situation on drop in revenue from the Federation Account and urged the higher institutions to make judicious use of Internally Generated Revenue to pay salaries.
As both the unions and government stood their respective stands, it is hoped that the issue would be settled soon to guard against total collapse of higher education in the state.
Members of the Committee of Union in Tertiary Institutions, comprising five institutions in Kwara State have been on loggerheads with the State Government for the past three months over the non-payment of the salary arrears.