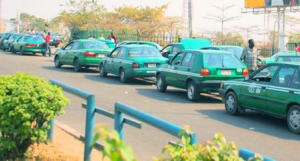 Taxi drivers in Abuja, Nigeria's capital city, have joined the league of groups calling on candidates of political parties and their supporters to shun violence and vote for peace during the February polls.
The taxi drivers gathered in their dozens at the Unity Fountain to stage a 'drive for peace' and support for the incumbent, President Goodluck Jonathan, at the weekend.
They hoped to mobilize their members to vote for the incumbent whose administration, they said, has impacted positively on them.
Nigeria's general elections are only two weeks away and aside rallying support for the President, the group of taxi drivers said that the exercise was also targeted at sensitizing members, and other party supporters on the need to vote peacefully during the polls.
Nigerians will go to the polls in February 14 for the presidential elections and February the 28 to elect governors and legislators in the states and at the federal level.
Political parties and their supporters have less than 14 days to canvass support for their candidates.