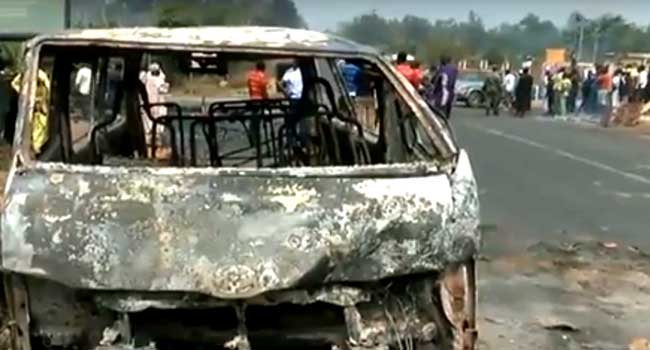 Angry residents of Ilaramokin, a town located along Akure- Ilesa highway near Akure, the Ondo state capital, have taken to the streets to protest the alleged shooting of a resident in the town.
Trouble started when a commuter bus hit a motorcyclist on the highway.
This led to the instant death of the passenger on the motorcycle while the rider sustained serious injuries.
The accident sparked off protest by the residents who are calling for speed breakers to be constructed on the highway to limit the rate of road accidents.
However, the protest turned awry when men of the Police arrived the scene as the protesters claimed that Policemen had shot five of the protesters in an attempt to disperse the crowd.
The Ondo State Police Command, however, gave a different account of the incident.
"Some irate youths went to the scene and descended heavily on the occupants of the vehicle as well as the driver, damaging the vehicle.
"So we needed to be there and we were right there, tried to prevail on them, asking them to be calm but unfortunately they went against us and descended heavily on our people.
"Our own brand new patrol vehicle was burned to ashes, our boys had to scamper for safety," said the Ondo State Police PRO, Femi Joseph.
The Police said that peace efforts were on as they continue their investigation into the cause of the accident that triggered the burning of the bus, a barricaded highway and a traffic jam.