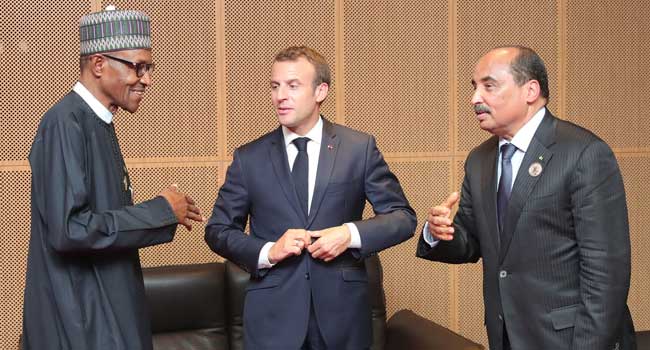 President Muhammadu Buhari on Monday met with the President of France, Emmanuel Macron during the closing ceremony of the 31st Session of Africa Union (AU) in Nouakchott, Mauritania.
He also met with the President of the Islamic Republic of Mauritania, Mohamed Ould Abdel Aziz, President of Mali Ibrahim Boubacar Keita, President of Sierra Leone Julius Maada Bio and President of Sudan Omar al-Bashir at the sidelines of the AU Summit in Mauritania.
Macron is set to visit Nigeria tomorrow, Tuesday and hold talks with President Buhari on security and terrorism.
He is also planned to visit the New Afrika Shrine founded by Femi Kuti, son of Nigerian music legend, Fela Kuti in Lagos State.