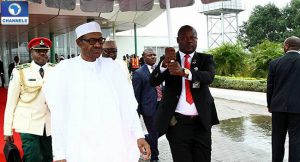 The President of Nigeria, Muhammadu Buhari is among the 35 African leaders attending this year's International Conference on African Development (TICAD Vi) in Nairobi, Kenya.
The summit holding this weekend is co-organised by the government of Japan, the United Nations office of the Special Adviser on Africa, the United Nations Development Programme, the African Union and the World Bank.
The President left Nigeria for Kenya at about 2:00p.m. local time on Friday.
The focus of the Summit is on promoting structural economic transformation through diversification and industrialisation; promoting resilient health system for quality life and promoting social stability for shared prosperity.
During the conference, President Buhari will participate in plenary sessions on TICAD in alignment with African development, the dialogue with the private sector as well as the global launch of the second Africa Human Development.
The president will also hold a bilateral meeting with the Japanese Prime Minister, Shinzo Abe.