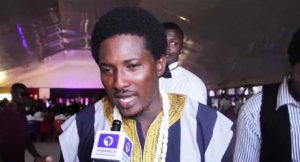 Following the successful release of the music video for his latest single, 'Alagbawi', musicologist and gospel music singer, Precious Sam, hosted an album release concert in Lagos, for the new album titled 'The Future'.
Giving insight on the title of the album, he explained that "the future is bright" although many seem to have given up on Nigeria.
He said it is a reminder that other developed countries have had their fair share of hardship however, they overcame.
In the case of Nigeria, he says everyone ought to be in unity as the nation is only passing through a phase.
He also hinted that some tracks on the album give insight as to where the problems lay, rather than the popular idea that it's the fault of the government.
The gospel artist says his academic background in music gives him an edge and the opportunity to create something unique which he called a fusion of afro-beat and high-life.
He considers his music to fully message-based as opposed to the dance concept of regular music.
Business With God
Another gospel singer and music partner, Monique expressed joy over the album launch, saying that she feels blessed to win souls for God through the ministrations.
"Doing business with God is always profitable we are winning souls and getting blessed.
"Even if other artists are killing it, we are winning it. we are not setting our standards by whatever they are winning," she said.