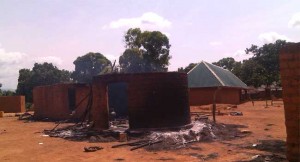 The House of Representatives has asked President Muhammadu Buhari to uphold Section 40 of the 1999 Constitution he swore to by protecting the lives and properties of Nigerians. 
Chairman of the House Committee on Public Safety and Intelligence, Mr Aminu Jaji made the demand on the President in Makurdi, the Benue State capital during the committee's investigation visit to Agatu and ten other local councils affected by herdsmen attacks on farming communities.
While the House committee also made a case for the reconstruction of the affected communities in Benue State, Governor Samuel Ortom maintained that the state is opposed to the creation of grazing reserves.
He urged the committee to visit scenes of the devastation to enable it legislate from an informed position; a request the committee promised to grant.
As the dust from the three months long herdsmen attacks on farming communities in 11 out of the 23 local councils areas settle down, the ruins still bears marks of wanton destruction.
Houses in ten electoral wards in Agatu were burnt to the ground while hundreds of local farmers were killed and properties worth millions destroyed.