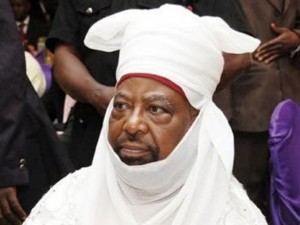 One of Nigeria's foremost Traditional Rulers, the Emir of Kano has died at the age of 83.
Alhaji Ado Bayero died as a result of long illness, at about 12 midnight.
On many occasion, the Emir was rushed abroad for treatment and was some time ago attacked by suspected Boko Haram members but escaped unhurt, a source at the Kano palace said.
He is to be buried in Kano today (Friday) according Islamic rites.
Alhaji Ado Bayero is one of the longest serving rulers in the Emitrates history.
Following his father's death, he ascended the throne on October 22nd 1963 at the age of 33.
Alhaji Ado Bayero is the 13th Fulani Emir of Kano and the 56th ruler of the Kano kingdom.
Apart from his Emir ship, Alhaji Ado Bayero also served in other capacities.
He was a former Nigerian ambassador to Senegal, former chancellor of the University of Nigeria, Nsukka and the present Chancellor of the University of Ibadan.