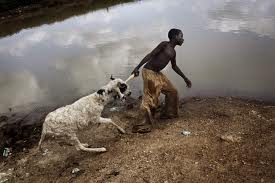 There was pandemonium at Kuta market in Minna, the Niger State capital, North Central Nigeria on Thursday,  following an unusual discovery of a human-like creature in the bowels of a butchered female sheep.
The butcher,  Alidu Maiyanka had opened for business as usual when he attempted to slaughter the female sheep for waiting customers only for him to notice a strange object in the stomach of the sheep.
On closer examination, the strange object turned out to be a creature with human eye, nose, and legs but with the face of a sheep thereby throwing the market into confusion while the customers took to their heels.
Although our camera was denied access to the scene by the market union, the butcher Alidu Maiyanka explained to Channels Television that he discovered the monstrous creature after slaughtering one out of the five sheep he bought from a popular livestock market in Minna.
An eyewitness who is also a butcher, Gambo Adbullahi stated that prior to the slaughtering of the sheep, there was no sign that the animal was pregnant, saying it was, therefore, a shock to find such a mysterious creature  in the bowels of the animal.