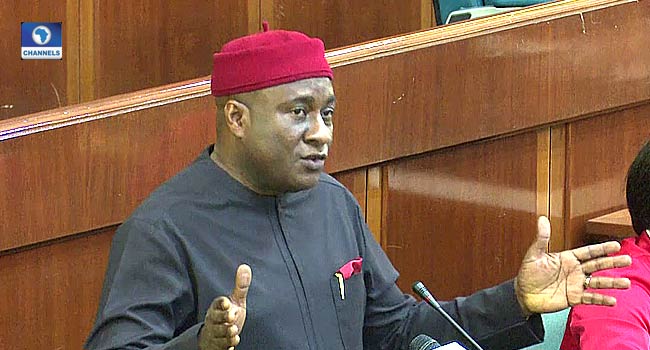 Chief Executive Officer of Air Peace, Allen Onyema, has denied allegations that he laundered more than $20 million from Nigeria through United States bank accounts, a claim credited to the US Department of Justice.
According to the Justice Department, Mr Onyema allegedly leveraged his status as a prominent business leader and airline executive while using falsified documents to commit fraud.
In a statement issued by his lawyer, Mr Onyema claimed that all allegations are false and do not reflect his personality as a business owner.
"I never laundered money in my life, neither have I committed bank fraud anywhere in the world. Every kobo I transferred to the U.S. for aircraft purchase went through the Central Bank of Nigeria and all were used for the same purpose."
READ ALSO: 'I Won't Make The Mistake Of Running For Third Term' – The Week In Quotes
He insisted on his innocence on all the indictment and said that the U.S. government will find no dirt on him because he has never conducted any illegal business.
American Laws Go After Those Who Break Them…
Meanwhile, Personal Assistant to President Muhammadu Buhari on Social Media, Lauretta Onochie, has asked Mr Onyema to face his accusers, stressing that the US Government only go after those who break their laws.
In a series of tweet, the President's aide said that the Federal Government is yet to be briefed about the situation.
"I do not understand what President Muhammadu Buhari has to do with Mr. Onyema of Airpeace being indicted and charged in the USA.
"According to our Attorney General, the Federation, the Government has not even been informed of the situation; American laws go after those who BREAK them."
She lamented the way funds meant for the development of the Niger Delta have been looted.
Onochie said: How much has Nigeria invested in the Niger Delta Amnesty Programme, NDDC & 13% derivation funds? All, mostly in a black hole Do we know the extent of poverty, ignorance & disease in the Niger Delta? Please let America help us see how Niger Delta underdeveloped Niger Delta.
"Those of us from the Niger Delta who are the direct beneficiaries of the sufferings that emanated from the looting of our wealth will tackle them. It's our war that is being fought. Laws, Nigerian or American, go after those who break them so we must mind our business.
"We are smarter now than ever before. Gradually, the scales of tribalism, religious affinity and political loyalty, are falling off our eyes and being replaced by Nigerianism.
"Nigerians are not keen on tales by the moonlight. Let him return to America and face his accusers," she added.
See Lauretta Onochie's tweets below:
1. I do not understand what Pres. @MBuhari has to do with Mr. Onyema of Airpeace being indicted and charged in the USA.

According to our Attorney General, the Fed. Govt. has not even been informed of the situation.

American laws go after those who BREAK them
What a man sows….

— Lauretta Onochie (@Laurestar) November 24, 2019