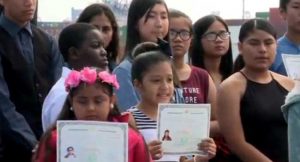 Forty-one children became citizens of the United States in Los Angeles on Monday.
The group ceremony, held aboard the USS Iowa battleship museum, brought together children from 14 countries between the ages of seven to 22.
The group took individual oaths before taking part in a group pledge. All the children have parents who have become naturalised citizens.
"I came from Mexico. Both my parents are from Mexico. They just came to give me a better future and I hope to be a good citizen after this and bring something to the country," said 16-year old Frida Ibanez.
U.S. senator Kamala Harris was at the ceremony, greeting the new citizens.
Harris has been an outspoken advocate of immigration rights and has been vocal in her opposition of President Donald Trump's immigration policies, including his travel ban and proposed border wall with Mexico.