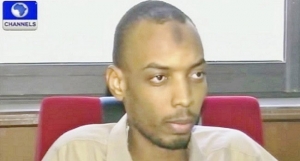 The trial of Aminu Ogwuche and five others suspected to have masterminded a bomb blast at a motor park in Nyanya, a town in the outskirts of Abuja, has been stalled again following the lack of a screen to protect the witnesses.
The trial judge, Justice Ahmed Mohammed, had in the last two hearings slated the case for trial-within-trial to ascertain the voluntariness of the statements made by the accused persons after they alleged that statement were given under "severe beating and torture" by officials of the Department of State Service (DSS).
However, at the resumed hearing on Wednesday, the inability of the court registrar to provide a screen to protect the witnesses, who are staffers of the DSS, forced the court to adjourn the trial.
Justice Mohammed subsequently adjourned the case to 16 and 17 of June for trial.
The court had earlier given an approval for the witnesses to give their testimonies wearing masks.
The accused persons, Aminu Ogwuche, Ahmed Abubakar, Mohammed Ishaq, Ya'u Saidu, Anas Isa, and Adamu Yusuf, were alleged to have masterminded the April 14, 2014 Nyanya Motor Park blasts that killed scores of passengers and destroyed several vehicles.
On Tuesday, the Federal Government sought the conduct of the trial of six persons with the new administration of Justice Act.
At the resumed hearing of the case before it was adjourned to Wednesday, the Director of Public Prosecutions, Mr Mohammed Diri, requested that the court should try the accused persons under the new administration of Criminal Justice Act, 2015.
The trial has been adjourned more than four times this year for several reasons.