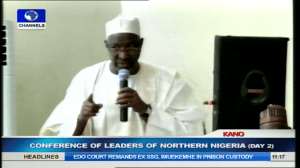 The former National Secretary of the defunct Action Congress of Nigeria, Dr. Usman Bugaje, on Tuesday blamed Nigerians of northern extraction of being "mentally lazy". 
Dr. Bugaje, who presented a paper on the issues of development in the North during the Conference of Leaders Of Northern Nigeria, revealed that this situation was discovered from a forum earlier organised by the Arewa Research and Development Project, where participants "left the conference feeling stupid to be thinking of oil."
He added, "we have far more than oil; we have the capacity to develop and feed the whole of Africa just from here Nigeria." He insisted, "we had all that it takes just that we are mentally lazy."
He further noted that ideas obtained during the conference borders mostly on how to move the northern part of Nigeria out of its present predicament.
Dr. Bugaje, who is also the Convener of the Arewa Research and Development Project, called on northerners to engage in knowledgeable and creative ventures to break from the shackles of poverty and underdevelopment.
"ln the 21st Century, knowledge is the greatest capital" he said, as he went down memory lane to remind the participants of the importance of oil in the past 30-40 years.
He went further to assert that the situation witnessed in the past years was no longer obtainable, as the "richest man in the world now, Bill Gates, has nothing to do with oil."
"We don't need this (oil), what we need is to use that God given talent; to develop it; that is what is more important" he said.
Dr. Bugaje, however, noted that "this is not to say that we (northerners) must not get what is ours but basically to say that the world has moved on and oil is no longer important."
He maintained that "the future is not in oil but in knowledge and that is where our (northerners) minds should be."
Faults Timing of National Conference
Dr. Bugaje faulted the timing of the National Conference, noting that it is coming at a time when the northern part of the country is "at its worst".
"Besides its sordid origin, this conference is coming at a time when the North is at its worst. For the last 15 years, the North has been systematically impoverished, it has been systematically garrisoned, it has been systematically denied every right that it has, it has been targeted; its people in the civil service had been pruned and elbowed out" and "we are invited to come and participate in a conference that its result has been pre-determined."
While faulting the nominee list released by the Presidency, Dr. Bugaje claimed that the constitution lacked the backing of the law and is therefore illegal, insisting that "it is not a conference; it is a presidential committee set to advice the President."
He further faulted the funding of the conference, berating the fact that it was not included in the 2014 Budget.
There Is No Oil Producing State
Dr. Bugaje, in his presentation, also insisted that "there are no oil producing states" explaining that the only oil producing state is the Nigerian state itself."
To buttress his argument, Dr. Bugaje said that "the investment came from the Nigerian state, the oil came from the Nigerian state." He added; "Whatever mileage you get in the sea, according to the United Nations Law of the sea, is a measure of the land mass that you have; that is what gives you the mileage into the sea", noting that "the land mass of this country, we know that gives that long 200 nautical miles or more into the ocean, is because of that 72 per cent of the land mass of this country, which is the North."
He further maintained; "What they claim is the off shore oil is actually the oil of the North" insisting that "we should stop using the term" as "there are no oil producing states."