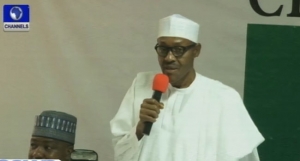 The Publisher of Ovation Magazine and one time presidential candidate, Dele Momodu, met with President Muhammadu Buhari at the State House, Aso Rock Villa.
After the meeting, he told journalists that their conversation was very candid.
Mr. Momodu said that he told the President that women must be involved in the governance of Nigeria as the needs of women are not as big as that of men.
When confronted with reports on social media where he was reported to have said that the President was too slow, he responded, "You know on social media people can post anything.
"I actually wrote him a memo and one of the things I told him is that the job of a columnist is that of an adviser who is not paid."