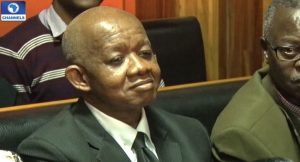 An official of the Department of State Services (DSS) has testified that the sum of 38 million Naira, two pump action rifles and some foreign currencies were recovered from the house of Justice Adeniyi Ademola during their search at the residence of the judge in October last year.
Justice Adeniyi Ademola, his wife and Mr Joe Agi, a senior lawyer are facing trial on allegations of bribery and illegal possession of firearms.
The witness, an operative of the DSS, Ike Onuoha, also said the operatives involved in the raid were told by Justice Ademola's domestic workers that he was out of town, while the defendant was inside the house.
He said that the Justice's security officials had told the operatives that his cook, identified as Ken, was in possession of the keys to the house.
"When we entered the premises, we called on Ken to call the judge with his mobile phone. Ken called the judge several times but he refused to pick. Much later, the judge sent a text message that he was not in town.
"After repeated calls, he switched off his phone. At that point, we had no option than to force open the main door. When we entered, we saw Justice Ademola in the master's bedroom upstairs in his night wears. That was few minutes after 12 midnight," the witness told the court.
He further told the court that they found 8.5 million Naira inside another room, after they forced their way in, having been refused access into the room by the defendant.
"The money was in 1,000 Naira denomination. We also found the sum of 6 million Naira, $121,179, €4,400 Euros, £80 and 1,010 Indian Rupees.
"In addition to that; we recovered six ATM cards, eight cheque books, eight deposit slips for various banks, two firearm licences – one for Honourable Justice A.R. Mohammed," Mr Onuoha said listing recoveries.
He added that the rifles recovered at the residence had renewable licences and that they were no effort to contact Mr Mohammed, another judge at the FHC whose name was on one of the licences of the recovered guns.
The case was adjourned to Wednesday for continuation of trial.
Trial of the justice had resumed on Monday, with the lead prosecution counsel, Mr Segun Jegede, telling the court that he had 14 witnesses, including officials of the Department of State Services (DSS), Zenith Bank and Guaranty Trust Bank who will testify in the case.
The court proceedings commenced with the prosecution counsel addressing the court on the evidence with which he intends to prosecute the case.
After his statement of evidence, the prosecution invited his first witness, a sales consultant to Coscharis Motors in Lagos who testified to have received payment of eight million naira from Joe Agi Associate for a BMW car.