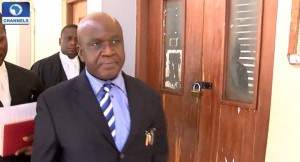 Ruling on the application filed by Mr Rickey Tarfa, seeking to quash the charge preferred against two of his clients, Gnanhoue Sourou Nazaire and Senou Modeste Finagnon, has been adjourned till April 27.  
Justice Taiwo Taiwo of the Lagos State High Court adjourned the case on Tuesday.
Both men, who are citizens of Republic of Benin, are standing trial for allegedly defrauding one Rachidatou Abdou and her company 630 million Naira.
Upon their arraignment on February 17, they pleaded not guilty to the charge.
At the resumed hearing of the matter on Tuesday, Mr Tarfa filed an application backed by a 50 paragraph affidavit urging the court to quash the charge against his clients on the grounds that it lacked jurisdiction to hear the matter.
He also alleged that the charge was incompetent and that the Economic and Financial Crimes Commission was prosecuting his clients without any petition from anybody.
However, EFCC's counsel, Rotimi Oyedepo, in an 11 paragraphs counter affidavit, asked the court to assume jurisdiction and hear the matter.
Mr Rotimi stated that most of the averments contained in the first and second defendant's application were false.
He said: "The Commission does not need a petition to prosecute a matter even though it received a petition from one Rachidatou Abdou through the Law Firm of Falana and Falana against the defendants".
On the competency of the charge, the prosecuting counsel submitted that upon receipt of the petition, the Commission assigned a team of investigators to investigate the case and that investigation revealed that the defendants conspired to commit felony, forgery and stealing.
Mr Rotimi also told the court to dismiss the submission of the defendant, as the Commission was a Federal Government agency statutorily empowered to prosecute cases of this nature.
He added that the office of the Attorney General of Lagos State had through a fiat conceded its prosecutorial powers to the Commission to prosecute economic and financial crime related offences in the state.
The defendants are facing a seven-count charge of alleged forgery, stealing and conversion of funds.
One of the counts read: "You, Gnanhoue Sourou Nazaire and Senou Modeste Finagnon between 5 January and 31 December 2012 in Lagos within the jurisdiction of this honourable court, with a dishonest intent, converted to your own use the sum of 141,460,915 Naira property of Rana Prestige Manufacturers Industries Nigeria Limited and thereby committed an offence contrary to section 285(1) of the Criminal Code Law of Lagos State".
Justice Taiwo adjourned the case to April 27 for ruling.